This week saw a number of fun and fascinating events celebrating the spooky season at Hopkins. On October 25th Special Collections opened their doors for the Vintage Halloween Spectacular while the following day the Evergreen Museum and Library hosted "Mediums, Magicians, and the Ouija Board: A Spiritualist History of Baltimore."
One name that may stand out in the discussion of Spiritualism is none other than the Handcuff King, the Master of Mystery, the Great Harry Houdini. While illusion and deception were part of his craft, Houdini strove to be as transparent as possible with his audiences. In fact, as the first president of the Society of American Magicians, it was important to lay out a code of ethics to which modern magicians still adhere. As part of that code, magicians swear an oath to discourage "false or misleading statements" that would claim that magic was anything more than illusion. In the spirit of honesty and transparency, the trickster dedicated quite a bit of time to debunking Spiritualism and targeting its practitioners who conducted seances and promised people access to their lost loved ones.
In 1916, Houdini performed publicly to a crowd of 50,000 people, who crammed in together, using binoculars, and climbing on rooftops for their chance to watch Houdini's feat. For this performance, Houdini hung upside down from the old Baltimore Sun building, confined to a straightjacket. Houdini made short work of his escape, breaking loose from his straightjacket in about 3 and a half minutes. He performed his full show later that night at the Maryland Theater.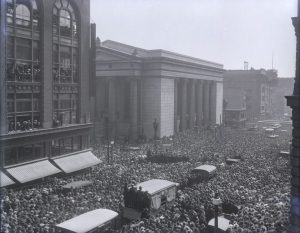 While Houdini didn't have any personal connection to Baltimore, he did perform here with some frequency. He would perform sometimes for weeks at a time, selling out shows at a variety of local theaters. At one point, he even volunteered to provide Christmas entertainment for the prisoners of the Baltimore City Jail and Maryland Penitentiary. While I'm sure the authorities were honored, they thought better of allowing the master of Escapology to spend any significant time with those imprisoned.
While Houdini might be the household name we all know, Baltimore has a rich history among magicians. From Thurston and Kellar, the Demons Club, and more, Baltimore has a long and magical history.
Want to know more about Baltimore's mystical past? Come check out what the library has!
Victorian Popular Culture: Spiritualism, Sensation, and Magic