Special Collections is accepting applications for First-Year Fellows, a one-year fellowship exclusively available to our fabulous First-Year undergraduates! The program is designed to introduce students to the joys, challenges, and thrills involved in conducting research with primary sources. Limited to just four students, First-Year Fellows provides its scholars with support by pairing each student with a mentor who will guide them through every step of the research process. Successful students will also receive a research award of $1,250!

Why should you apply? Because you will get to conduct original research with awesome rare things, be mentored by curatorial staff, and will be able to delight friends and family alike with your fascinating discoveries. Don't believe me? Well, just look at all the intriguing things that Arusa Malik, a Class of 2026 First-Year Fellow, discovered from our collections of women's suffrage and women's liberation ephemera, like the MCP or male chauvinist pig in soap form!
While you may not be chasing a MCP around the Special Collections Reading Room this academic year, rest assured there are plenty of topics to get your imagination running! Just look at these four intriguing research topics:
Across the Burning Sands: Exploring perceptions of the Middle East through popular sheet music
The discovery of Tutankhamun's tomb in 1922 spurred a flurry of fascination with Middle Eastern history, culture, and art. Even before this monumental discovery, the United States had an unyielding obsession with the Middle East and Asia, featuring exoticized (and often Islamophobic) images of its geography, people, and architecture in popular culture. Since television and cinema hadn't yet become widely available, this "Egyptomania," as it was called, was often expressed in the form of sheet music. Come explore over 200 years of music, art, architecture, celebrities, and history through the lens of popular music!
It's Greek (or German or Latin or Spanish or Italian) to Me
The author Italo Calvino once called the translator his "most important ally" who "introduce[d] [him] to the world." By translating hitherto untranslated works in German, Latin, Spanish, Italian, or Classical Greek held in Special Collections at Johns Hopkins University, you, too, can introduce readers to the world and be introduced to the libraries at Hopkins in turn. No matter what your interests or intended major may be, your working knowledge of any one of these languages can be applied to translating a host of texts on a variety of subjects that have never been rendered into English.
Activist Cooking
Special Collections has cookbooks dating back to the 16th century, featuring culinary traditions from around the world. However, cookbooks are far more than just collections of recipes. They can be fascinating agents for social change, works of nationalistic propaganda, and profound documents for cultural memory and identity. From suffragettes using cookbooks to promote voting rights for women to privacy activists publishing recipes from data leaks, the allegedly innocuous cookbook has made the question of "What's for dinner" fraught with possibilities for centuries! Lettuce guide you on a culinary journey like no other during your first year at JHU.
Investigating Early Student Records
Student records are restricted for the lifetime of the student or eighty years from the last date of attendance. The earliest student files from 1876 to 1943 in the records of the Office of the Registrar (RG-13-010) are therefore open for research. They shed light on university applications and admissions requirements, letters of recommendation, and data collection practices in the late nineteenth and early twentieth centuries.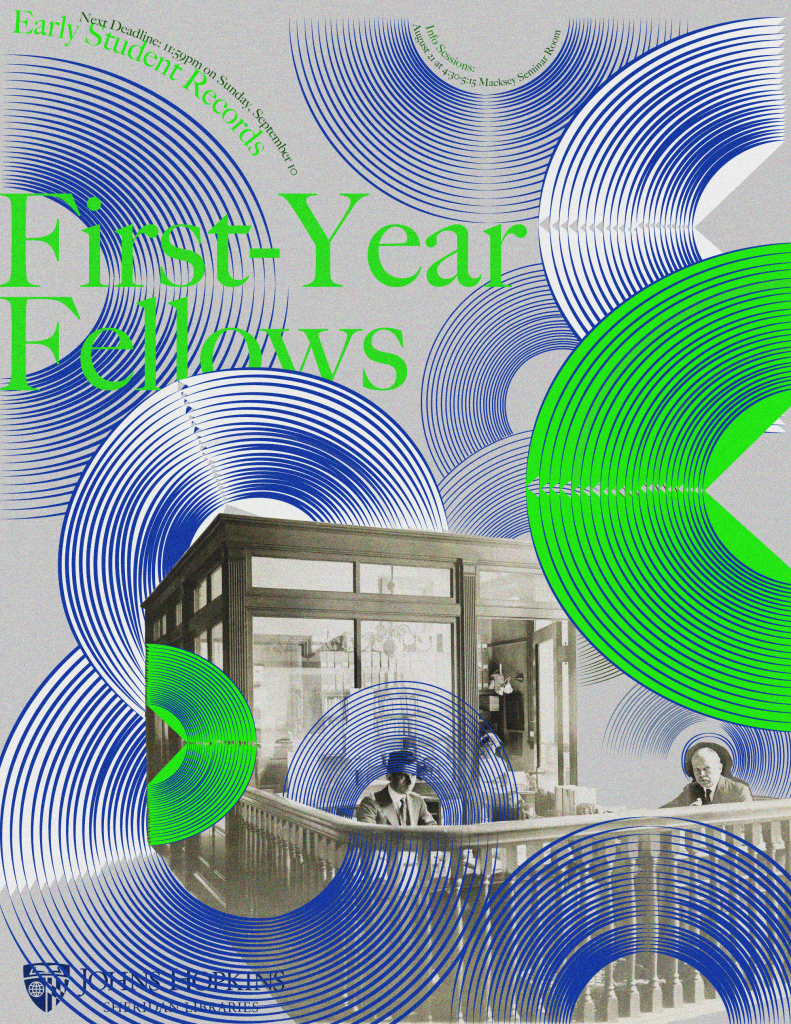 Sounds enticing, right? Just think: you can spend your inaugural year at Hopkins gaining language translation skills, training to become your generation's Hopkins historian, or learning how to interpret cookbooks written by counter-cultural communities like the True Light Beavers. Fortunately for you, the application process is a breeze. All you need to do is write a 750-word essay on why you would like to be in the program and what you would like to research. Still need inspiration? Look at our collection of blog posts written by students in the program!

Applications are due by 11:59PM on Sunday, September 10. Please go to our webpage for complete application details. Feel free to contact me if you have any questions at all about the fellowship.