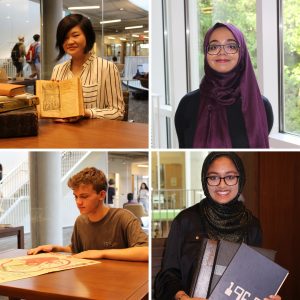 Special Collections is accepting applications for Freshman Fellows, a one-year fellowship exclusively available to members of the JHU Class of 2023! The program is designed to introduce students to the joys, challenges, and thrills involved in conducting research with primary sources. Limited to just four undergraduates, Freshman Fellows provides its scholars with support by pairing each fellow with a mentor who will guide them through every step of the research process. Successful students will also receive a research award of $1,000!
Why should you apply? Because you will get to conduct original research with awesome rare things, be mentored by curatorial staff, and never be at a loss for small talk when folks back home inevitably ask how you like studying at Hopkins. In fact, your family will start hiding from you, taking turns eating turkey and pumpkin pie in closets as a way to consume their Thanksgiving dinners in peace. "Why did you ask our dear so-and-so about Freshman Fellows," your family and friends will exclaim! "All we wanted was a meal with no mention at all about the top-quality education at Hopkins, the incredible depths of its Special Collections, and the absolute support students receive from librarians, curators, and archivists," they all sigh in unison.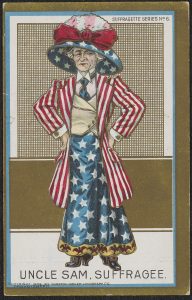 That's right! Such potential family drama can be yours if you apply to be a Freshman Fellow! Fortunately for you, the application process is a breeze. All you need to do is write a 750-word essay on why you would like to be in the program and what you would like to research.  Our curators and archivists have selected four different research projects you can explore, such as:
Votes & Petticoats: Curate an exhibition on the American women's suffrage movement!
Nature, Illustrated: Have unprecedented access to John James Audubon's The Birds of America!
What a Hullabaloo: Trace the history of Hopkins' storied yearbook, the Hullabaloo!
Not Lost in TransLati(o)n: Be the first to translate into English forgotten post-Roman Latin texts!
You can also pitch your own research idea!  Applications are due by 11:59PM on Sunday, September 15.  Please go to our webpage for full descriptions of the research projects and complete application details. You can also attend our information session in the Macksey Seminar Room (M-level, BLC) at 7pm on Thursday, September 5.