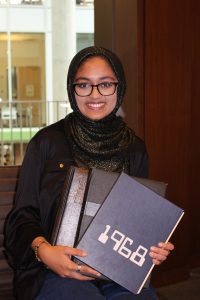 My name is Taharat Sheikh and I am one of four incredibly fortunate freshmen chosen to be a Special Collections Freshman Fellow. I plan to pursue a double major in Neuroscience and the History of Science, Medicine, and Technology though I am, by all accounts, a lover of the humanities at heart. It is precisely this vacillation that attracted me to the program in the first place. Research has become somewhat synonymous with Hopkins; I would be remiss not to admit that it was one of the reasons I chose to come here in the first place. Deciding to attend "America's first research institution" came with it the responsibility to delve into the unknown with unbridled curiosity, a certain fervor for exploration, if you will.
And so commenced my research project. The 20th Century was a radical time in all senses of the word; the counterculture movement of the 60s gave rise both to heightened political awareness and a robust pop-culture, activism transcended beyond simply collective effervescence, and perhaps most remarkable—students, the youth of America, found the courage to unapologetically fight for their beliefs in a way that was unprecedented. I've decided to focus my research on the history of student activism at Hopkins, comparing early 20th Century tactics to late 20th century tactics. I intend to conduct a cross-sectional analysis of strategies employed by student groups to see how successful they were in regards to the effects they've had on inclusion/diversity today as well as if the general outcomes of their efforts have held up.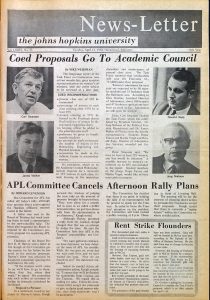 Evidently, this has nothing to do with my major, and I wouldn't have it any differently. My interest in the history of social justice movements at Hopkins is borne most holistically out of how I envision a student community should be in today's socio-political climate.  Having come from a relatively homogenous background, I look for inspiration in these Blue Jays, contrarians in their own right, and in a way feel as though I'd keep the spirit of their movements alive in conducting this research.
Indeed, the ability to pore over primary source material in Special Collections has been a wonderful experience, something I certainly do not take for granted.  Reading, for example, Johns Hopkins' 1873 letter to the board of trustees requiring that the Hospital provide for "the indigent sick of the city and its environs, without regard to sex, age, or color," has been most illuminating. Gently leafing through the very first copy of the 1912 JHU News-Letter, an organization I have since joined 106 years after its conception, is enlightening. Walking past Homewood Museum on my way to class knowing that anti-war protests took place on those very steps nearly 50 years ago has been nothing short of surreal. For those who did not know, before Garland Hall was built, the current Homewood Museum housed the Office of the President.
Being a Freshman Fellow has allowed me to satisfy my fascination by going beyond simply seeing and learning about the movements I so revered, and living them. This program is the only one of its kind; access to my mentor, Jim Stimpert, is invaluable and has provided the necessary focus and direction, not to mention resources and guidance, that an undertaking of this sort requires. The Archives and collections are a testament to history, yes, but also to exploration and discovery. My hope is that this is more than just a year-long research project, but rather a reminder of what had to have happened then, to make what we know to be Hopkins our reality now.