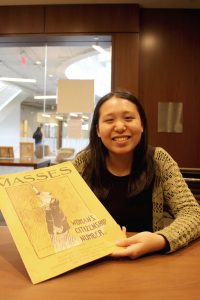 Special Collections is accepting applications for Freshman Fellows, a one-year fellowship exclusively available to members of the JHU Class of 2024! The program is designed to introduce students to the joys, challenges, and thrills involved in conducting research with primary sources. Limited to just four undergraduates, Freshman Fellows provides its scholars with support by pairing each fellow with a mentor who will guide them through every step of the research process. Successful students will also receive a research award of $1,000!
Why should you apply? Because you will get to conduct original research with awesome rare things, be mentored by curatorial staff, and be part of exceptionally fancy Zoom meetings! That's right. This year, Freshman Fellows is designed to support remote research! Whether living in student housing or communing with nature on a beet farm, as long as you have Internet access, you can amaze or even befuddle those around you with Zoom communiques about 18th century desserts meant to look like hedgehogs or the mysterious creatures of the even more mysterious land of Fusang.
That's right! Such potential Zoom whimsy can be yours if you apply to be a Freshman Fellow! Fortunately for you, the application process is a breeze. All you need to do is write a 750-word essay on why you would like to be in the program and what you would like to research.  Our curators and archivists have selected four different research projects you can explore:
Cooks & Their Books: Explore recipes of yore and the politics of food by researching our historic cookbook collection!
Fantastic Voyages: Embark on a journey of mistaken identities and flat-out lies in the realm of historical maps!
Rachel Carson & the Experience of Women Students at Hopkins: Research famed environmentalist Rachel Carson's student file, and compare her experiences to those of other women attending a mostly male institution!
Not Lost in TransLati(o)n: Be the first to translate into English forgotten post-Roman Latin texts!
Applications are due by 11:59PM on Sunday, September 6.  Please go to our webpage for full descriptions of the research projects and complete application details. Feel free to contact me if you have any questions at all about the fellowship. You can also attend one of our online information sessions about the program. The first will be on August 3, and the second on August 7.