Now that summer is in full swing and national parks are seeing spikes in visitors, this week's sheet music deep dive is dedicated to mountains and trails (not to be confused with volcanoes, which have already been featured on the blog).
Often, songs with ornate covers didn't feature any text (the flowers category is a great example)—many covers were just designed to catch someone's eye in a shop window. So, I was pleasantly surprised to find a wide array of emotional connections between images of mountains and text, ranging from deep optimism and love to sadness and nostalgia.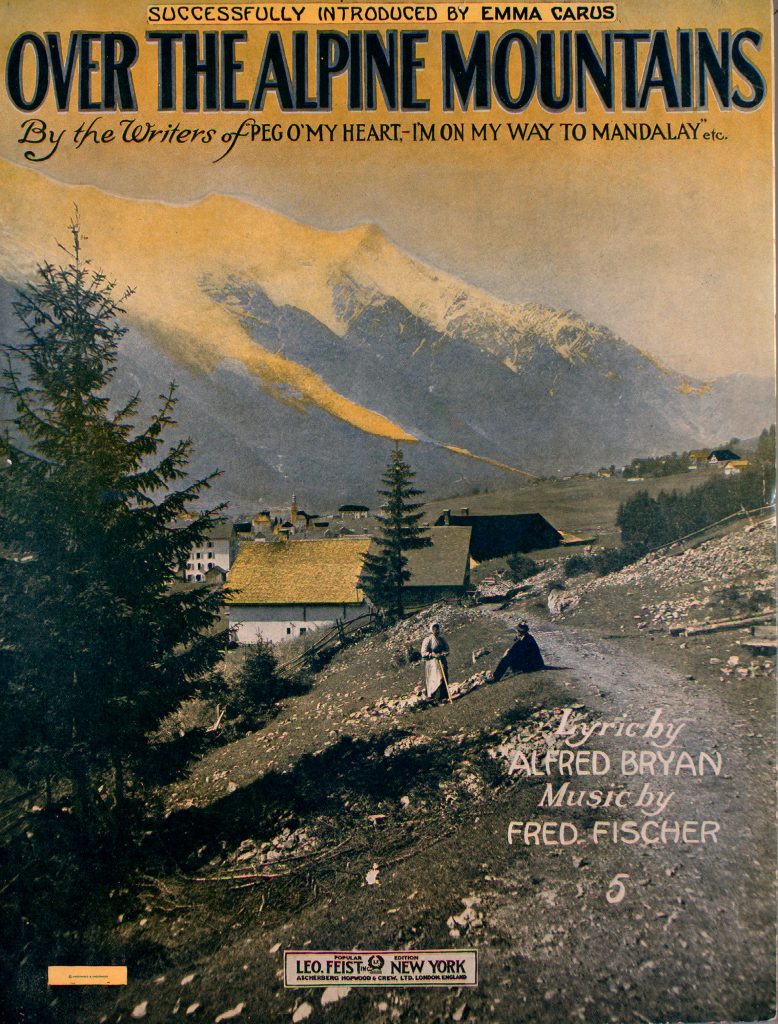 Over the Alpine Mountains has been one of my favorite lithographs since I found it—I'm always amazed when an illustrator can capture so many textures and shades using only a few colors. In addition to the cover, the song also entices a musician to buy it by name dropping Emma Carus, one of the most well-known vaudeville performers. The lyrics are a retelling of a love story set in the alps:
"Over the Alpine mountains, oh, so far away, I can hear her singing Troolyoolyay; Hand in hand we would stand, down in Switzerland, it was there one ay she stole my heart away."
The song was also popular enough to arrange for four voices, and has been recorded.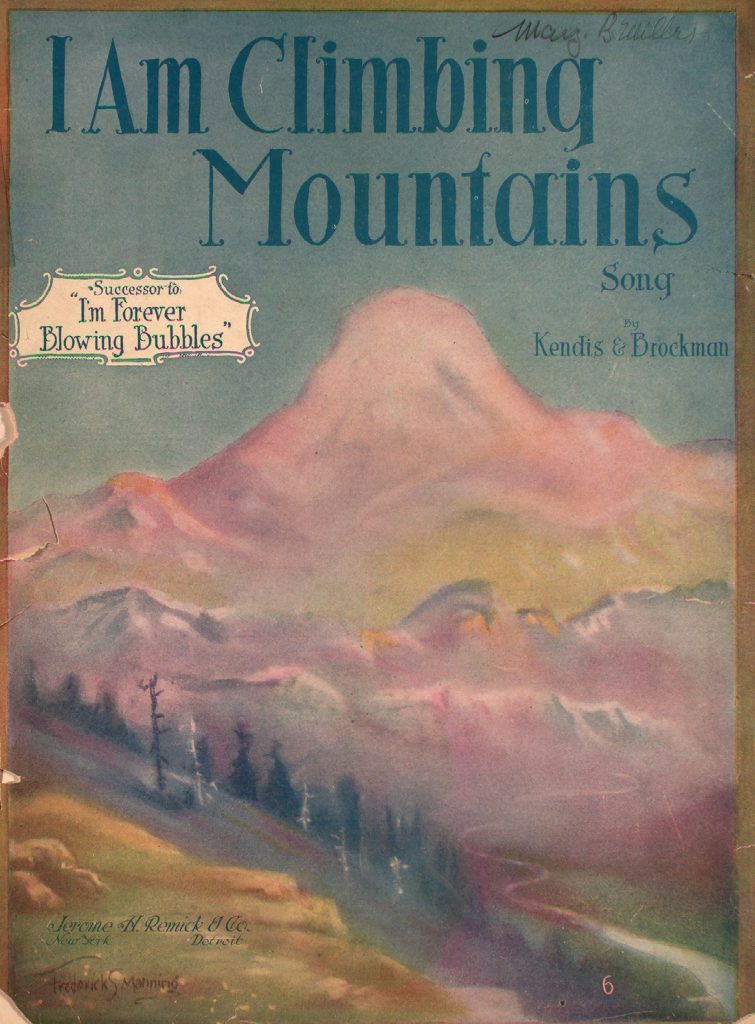 I Am Climbing Mountains features a gorgeous watercolor-style lithograph. The song was released by powerhouse publisher Jerome H. Remick in New York, 1919. While the melody rises and falls like peaks and valleys, the lyrics compare the climbing of a mountain to seeking happiness: "I am climbing mountains up to the sky, But they're too high for me. Other fellows there have got their share, They're happy as can be. I keep smiling going up but my smiles are in vain—When I think I've reached the top I fall right down again."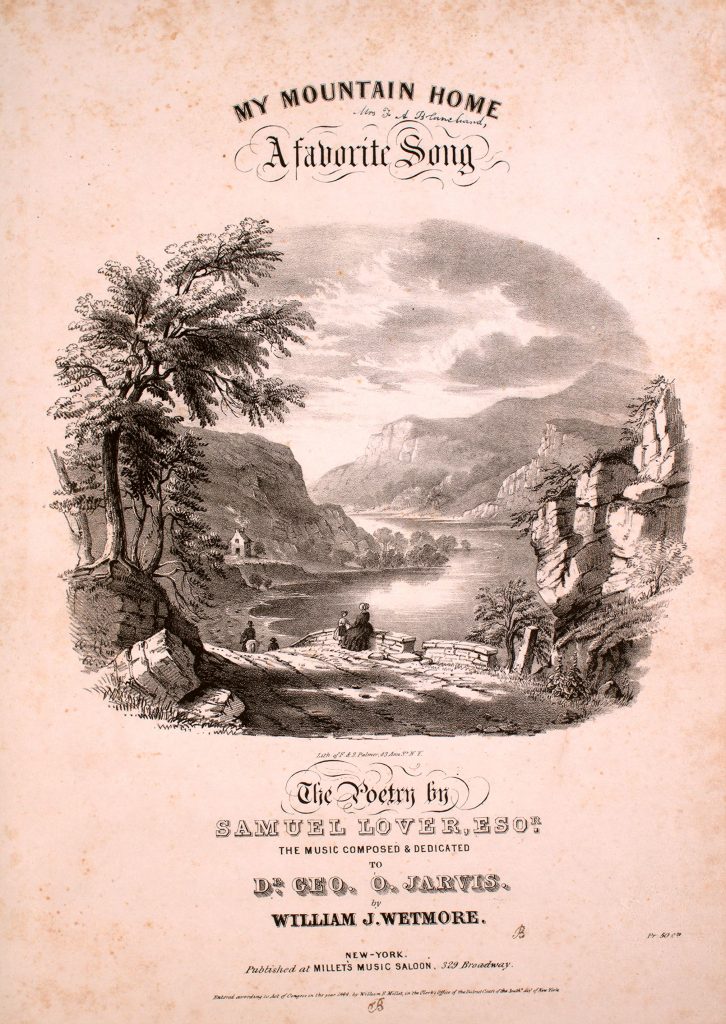 My mountain home was published by Millet's Music Saloon (New York City) in 1844. The cover still bears the autograph of its owner, Mrs. Blanchard. The "poetry" by lyricist Samuel Lover is pure nostalgia:
"My mountain home, my mountain home, Dear are thy hills to me: Where first my childhood lovd to roam, Wild as the summer bee."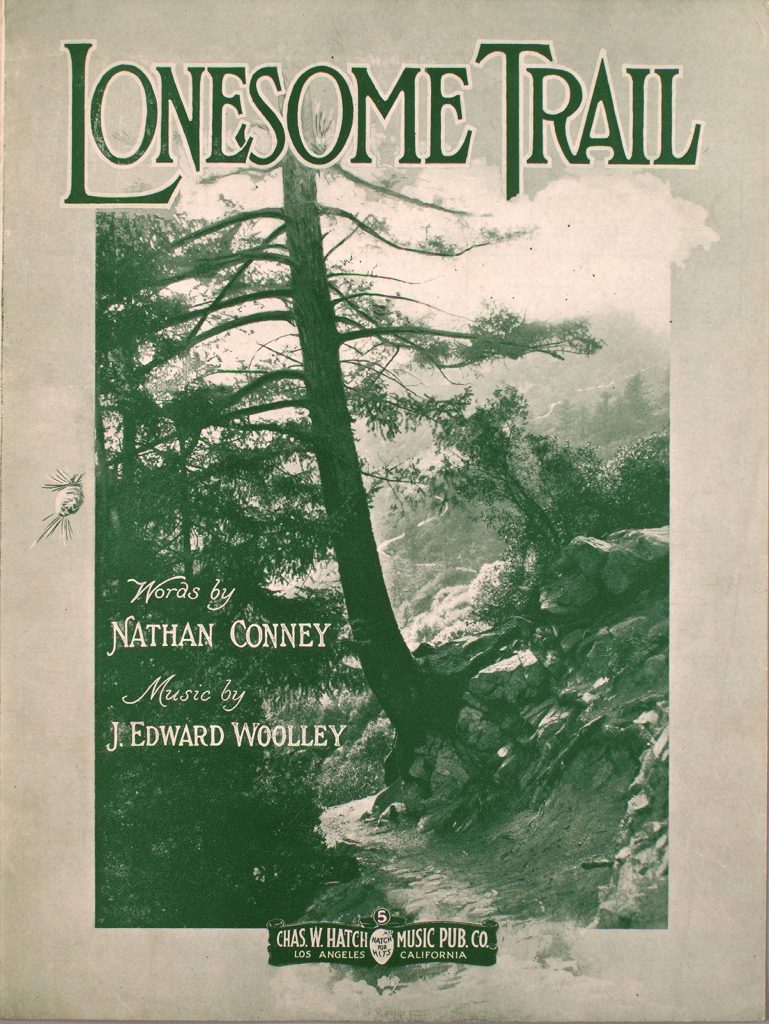 Lonesome Trail, on the other hand, tells of lost love in the forest:
"Lonesome Trail, Lonesome trail, that leads away from you; sunshine fails, life seems pale, my path is dark and blue. But, if dreams come true, Then I'll find you—as they do in the Fairy tale; And you'll be waiting there, dear, At the end of the Lonesome Trail."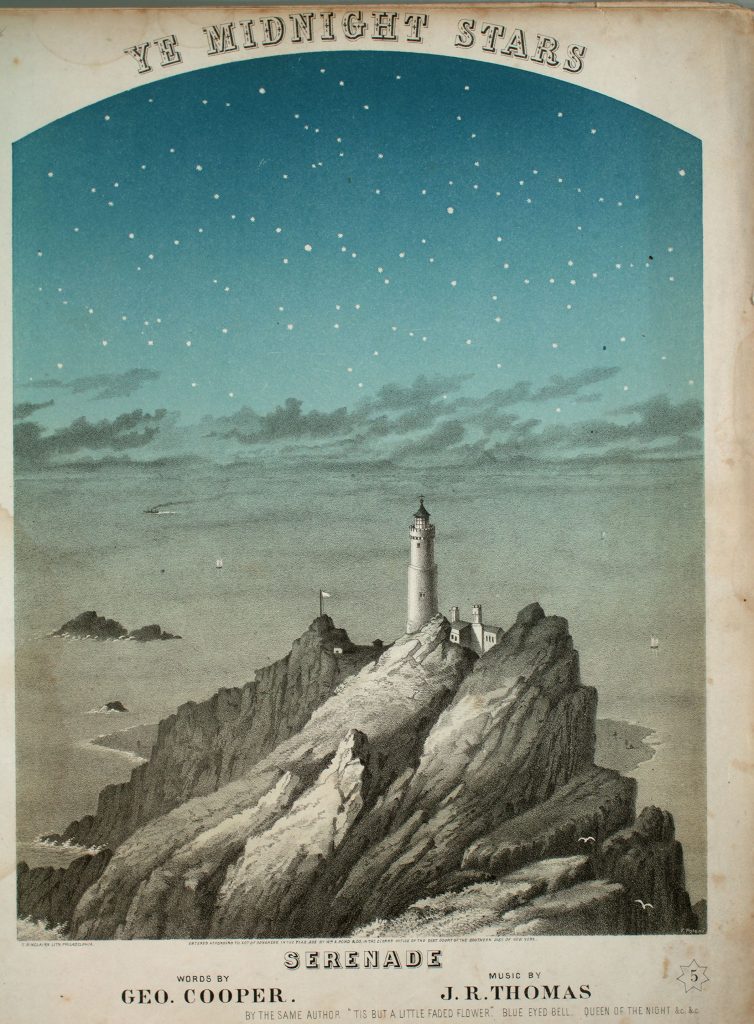 Ye Midnight Stars (1868) is simply a work of art, despite the cover being slightly uncentered and askew—the effect here is again achieved with few colors. This song has a particularly easy piano part, giving it more marketability. It also has optional alto, tenor, and bass parts to turn the song into a chorus (the notes sung by the additional voices are matched in the piano, so they're not harmonically necessary). The lyrics are a direct appeal to the night sky:
"Ye midnight stars rain golden beams O'er silent land and sea. Oh! Tell me if my lady dreams One gentle thought of me."
Which mountain will you climb next?
---
As the curator of the Lester Levy Sheet Music Collection, a phrase I hear often is "I didn't know sheet music could be used to study…"
Levy collected 30,000 songs over 50+ years not to perform, but to use as a lens for studying history. To make this easier, Levy organized his collection by subject, rather than title or composer. As a result, there are hundreds of unique subjects that can be used to filter the collection. So, I thought I'd take the opportunity to dive into some of the more fascinating, obscure, and strange subject headings in the collection. Each week, I'll focus on a different subject — stay tuned for more deep dives! You can view the entire digitized collection here.