Animal lovers have been keeping birds as pets for hundreds if not thousands of years—they can be found throughout history from Egyptian hieroglyphs to homing pigeons, and in White House families from George Washington to Lyndon B. Johnson. Parrots in particular have been among the most popular birds to keep as pets, making their way onto colorful lithograph sheet music covers since the 19th century.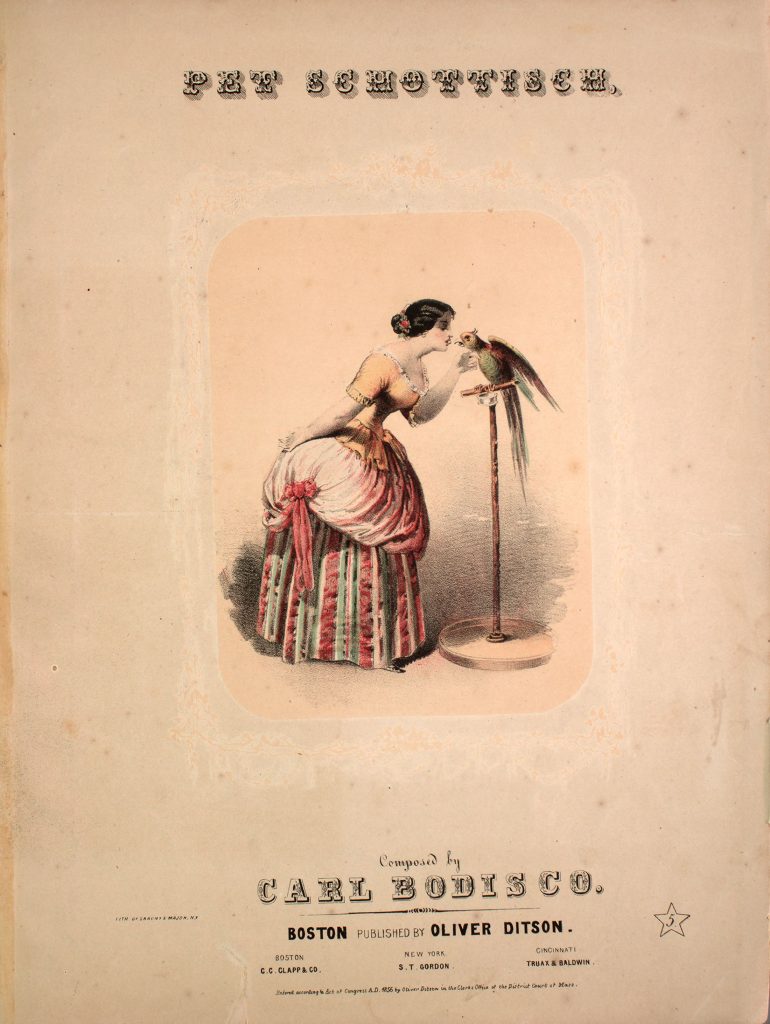 The earliest song in the collection featuring a parrot is the Pet Schottisch, an early colored lithograph from Boston (1856). It was published by Oliver Ditson, one of the earliest and most prolific sheet music publishers in the United States. Much detail was put into the woman's dress and the parrot's foliage, which closely match each other in color (the parrot's face also seems rather angry to me, but that might just be my interpretation).
It's unclear why the woman is leaning forward towards the parrot (maybe she's teaching it a new phrase?), and her right arm is also at a strange angle. Regardless, the song itself has no text—the cover here functions more as an advertisement rather than an inspiration for the music.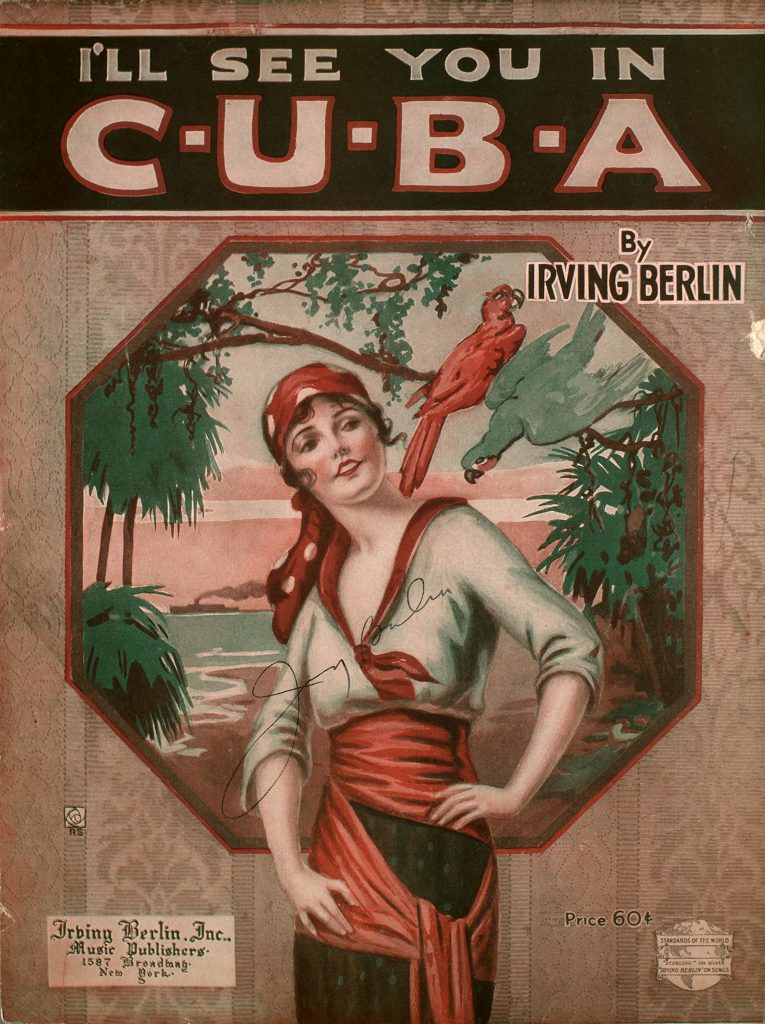 I'll See You in Cuba was published by Irving Berlin in 1920. This copy is autographed by Berlin— not surprising, as Lester Levy developed a relationship with the composer through correspondence. The song is a reaction to Prohibition, suggesting the audience should simply escape the ban on alcohol by traveling to Cuba: "Everybody's going there this year, and there's a reason: the season opened last July ever since the USA went dry." The song also borrows Cuban habanera rhythms.
The parrots on the cover here actually seem semi-accurate– the green one appears to be Amazona leucocephala (also known as the Cuban amazon or Cuban parrot), or possibly a Cuban Parakeet. The red one may be a scarlet macaw, but those typically have blue and yellow feathers too.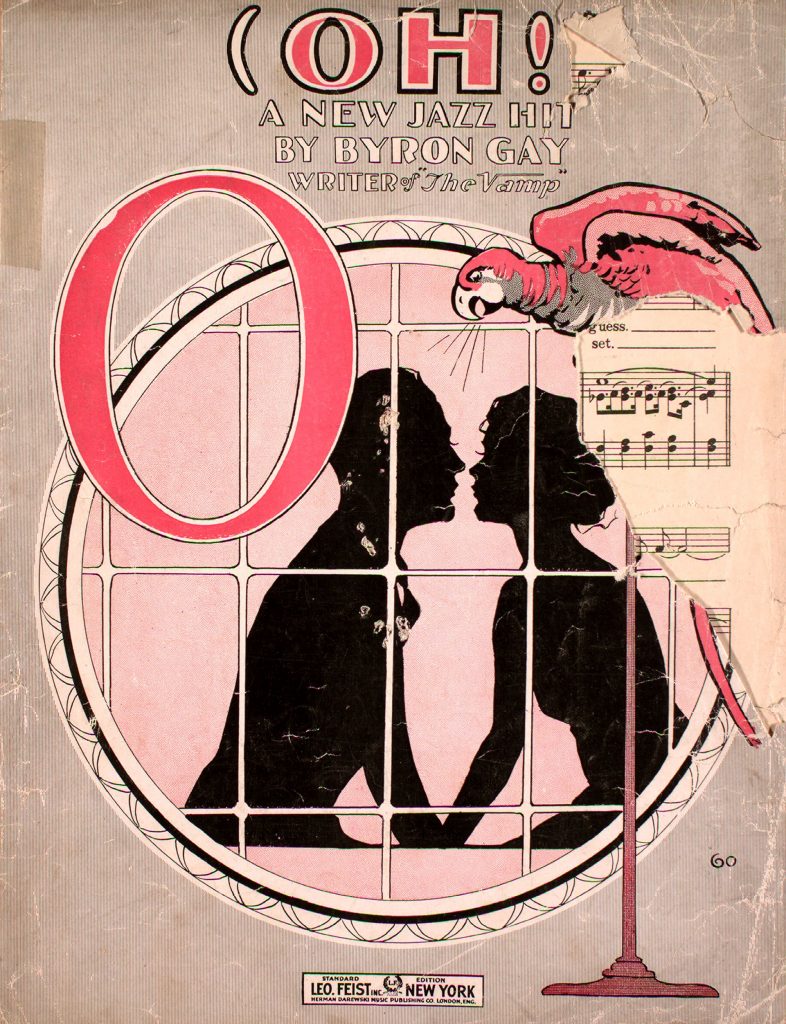 While this song has a parrot on the cover, the sheet music is clearly quite damaged from years of loving use. The original owner taped the seam and left creases at the bottom right from frequent page turning. Levy would often collect damaged music in the hope of eventually finding a better copy– only when he had a duplicate in better condition would he consider selling music from his collection. It's unclear why there's a squawking parrot on the cover of this song, as it's not addressed in the lyrics.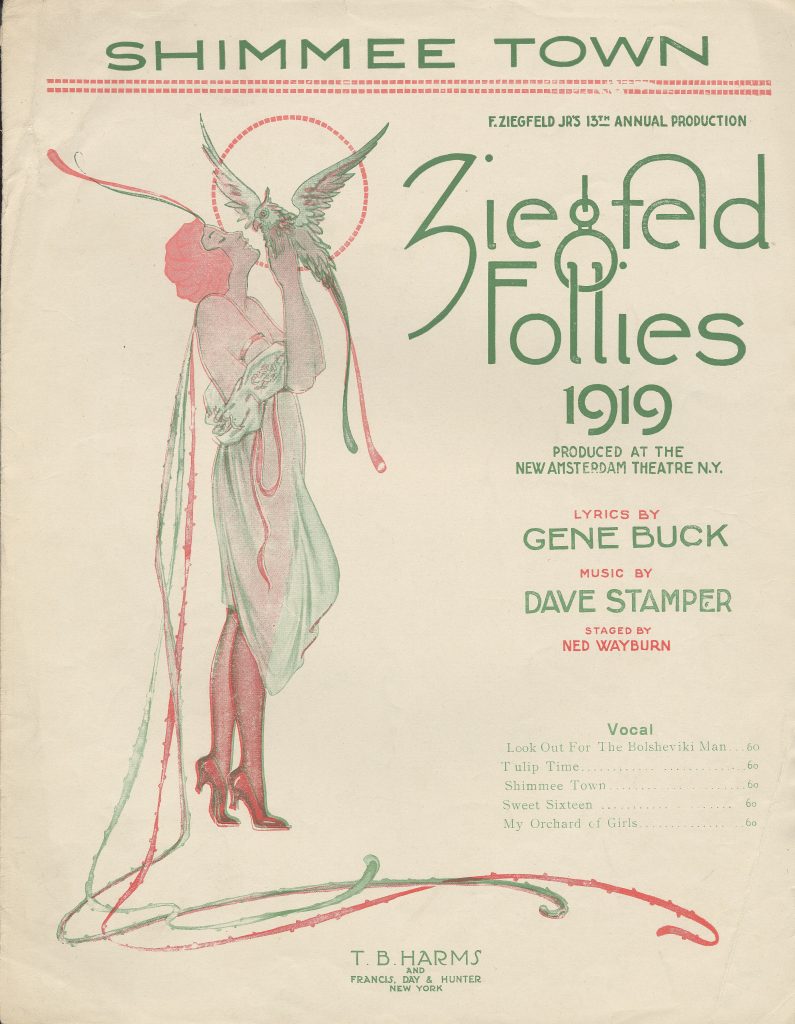 The Ziegfeld Follies were a series of variety shows known for their extravagantly over-the-top sets and costumes. Put on by Florenz Ziegfeld Jr., the shows are closely related to Broadway and vaudeville—I wouldn't be surprised if animals were incorporated into the shows, as "beasts" from elephants to bears were very common in vaudeville.
Although parrots seem at first to be entertaining pets, most owners tend to underestimate the level of attention and care they require or don't realize how loud they can be. This can lead to frequent rehoming or escape– according to Smithsonian Magazine, there are now more than 50 species of parrot across the country, whereas the US was once home to only two endemic species. However, parrots that are well taken care of can learn hundreds of words and sounds—my personal favorite is Einstein the gray parrot.
---
As the curator of the Lester Levy Sheet Music Collection, a phrase I hear often is "I didn't know sheet music could be used to study…"
Levy collected 30,000 songs over 50+ years not to perform, but to use as a lens for studying history. To make this easier, Levy organized his collection by subject, rather than title or composer. As a result, there are hundreds of unique subjects that can be used to filter the collection. So, I thought I'd take the opportunity to dive into some of the more fascinating, obscure, and strange subject headings in the collection. Each week, I'll focus on a different subject — stay tuned for more deep dives! You can view the entire digitized collection here.