Enjoy this post by DJ Quezada, one of our Special Collections Freshman Fellows for the 2020-2021 academic year!
Since I began this project three months ago, I have embarked on a similar journey to that of the mapmakers I have spent the last several months studying: synthesizing information about places (or in this case, time periods) that are unfamiliar to me. Maps have always been particularly close to me. The only posters I have in my room are a wall-to-wall world map, an old park brochure from Joshua Tree National Park (the perfect place for social-distanced exploration, if you ask me!) and some old maps of the Middle East gifted to me by the Library of Congress. These maps, however, have been an entirely different ballgame. These are maps that predate the United States.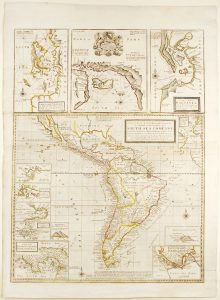 With so many maps at my disposal and such a wealth of time periods to explore, the principle issue of the last few months has been deliberating over which course to chart in my study. My coordinator and I have spent each of our weekly meetings just sifting through an enormous variety of maps covering a vast expanse of the Earth ranging from the seaways between the American colonies and European seaports to navigating around the treacherous Southern Cone of the South American continent, as the newly-acquired map by Hermann Moll can attest! Ultimately, this helped me develop the scope of my project into something larger than just maps. During my research, I came across the story of the South Sea Company, a joint-stock company whose crash caused one of the first modern financial crises. Part of the reason for the crash was a severe over inflation of its value through friendly media coverage and wildly unwarranted speculation, which inevitably caused a crash when it could not live up to this image.
Maps, in addition to being a method of navigation, are about telling a story. Particularly during the European exploration of the Americas, maps were one of the primary ways people not directly involved in these explorations learned about the Americas. Based on what I have read about the South Sea Company, I have decided to start looking into how maps and other media of the times helped shape popular perception of these imperial exploits, and comparing that to the actuality of what happened, both in manipulating financial markets and serving as window dressing for the more sinister aspects of European Imperialism– fun!
All of this could not be possible without Amy Kimball. She's been an extraordinary help in finding my direction with this project, as well as helping me gain access to the vast amount of resources JHU Special Collections has and beyond! I really look forward to what the rest of my research has in store for me. It's going to be rad!