The Special Collections Freshman Fellows program began in 2016 as an enriching and fun introduction to the challenges and joys of conducting research with primary sources. Students in the fellowship embarked on fantastic research journeys ranging from the history of student housing at Hopkins to the forgotten stories that ephemera can reveal about the women's suffrage movement. And of course, so much of the inspiration came from handling rare and unique items in our lovely Reading Room. We were so excited about planning for the 2020-21 fellowship topics and then, well, COVID happened and everything swiftly changed.

But you know what hasn't changed? Our mission to fill the world with special collections researchers, one JHU freshman at a time! We simply won't stop until the Hopkins Alumni Association is full of regal Blue Jays discussing catchwords, debating the merits of woodcuts versus engravings, and ending every reunion with a declaration of "To the Archives" to get to the bottom of Hopkins' lore. That's right. The Special Collections Freshman Fellows program is going online, with our fellows having awesome access to their very own digital facsimiles of amazing archival documents, rare books, and maps in our collections.

While this year's University experience will be vastly different from what our freshmen anticipated, we are thrilled that students are still excited to learn about what rare documents reveal about the past, even in facsimile form. We are equally thrilled to be working with four great students!

So just who are this year's Freshman Fellows and what will they be studying?
Kobi Khong will be stirring up a storm of research while examining historic cookbooks dating to the late 17th century: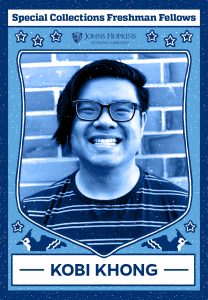 "Hiyah! I'm Kobi Khong from Southern California. I like to describe myself as affectionate, affable, and afraid of confrontation. If there's one thing I'm passionate about, it's seeing the impact on the people around me, whether it's through friendship or food. I'm a current Public Health major with a minor in Bioethics."
DJ Quezada will be navigating the choppy seas of politics and cartography: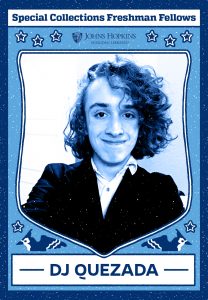 "Hi! I'm DJ Quezada and I'm from Bentonville, Arkansas! I'm conducting research into the historical significance of maps and cartography and how they helped shape political narratives during the European age of exploration."

Jade Robinson will do a deep dive into Rachel Carson's student file while she was a graduate student at Hopkins: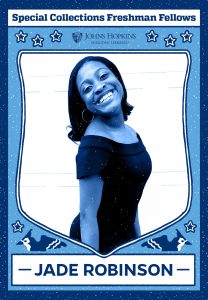 "My intended majors are Neuroscience and Psychology. I am from Atlanta, Georgia (but I hope to be in Baltimore soon!). I am also passionate about the Spanish language, and I plan to pursue a minor in Spanish for the Professions. In my free time, I enjoy singing in my acapella group and reading."

Ankita Sen will translate into English unique and obscure post-Roman Latin texts held at the George Peabody Library: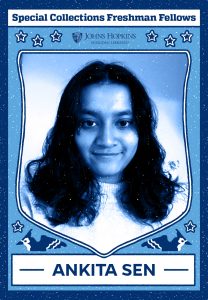 "My intended majors are Classics and International Studies. I love studying Latin literature and I can't wait to get started researching!"

We are so delighted to work with such talented and bright students, and we look forward to sharing their discoveries with you throughout the year!