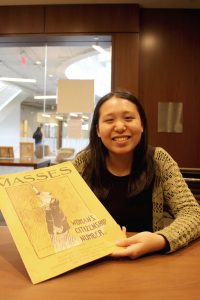 Enjoy this post by Ivy Xun, one of our Special Collections Freshman Fellows for the 2019-2020 academic year!
Hello, and welcome to my first blog post! My name is Ivy Xun, and I'm a current freshman thinking of majoring in Public Health and Writing Seminars. I hail from Bethesda, MD, love anything mint-chocolate chip flavored, and one of my all-time favorite words is blubber. And this year, I am so incredibly lucky and thankful to be a part of Special Collections' Freshman Fellows program.
Over the past few months, I've explored Special Collections' materials reflecting and documenting the women's suffrage movement and the passage of the 19th amendment, from broadsides to anti-suffrage fiction like From Hampstead to Holloway, from cookbooks (like The Washington Women's Cookbook—with a whole section dedicated to pineapple desserts!) to commercial postcards, from political cartoons to magazines advocating for and against women's suffrage (sometimes simultaneously in the same issue!). The more I delved into the materials and talked with my amazing and incredibly knowledgeable mentor Heidi, the more I realized how deeply complicated the women's suffrage movement in America was.
I think Sally Roesch Wagner puts it perfectly in the "Introduction" of the anthology, The Women's Suffrage Movement:
Writing any history of the woman suffrage movement is an absurdist task. You must be in a million places at once viewing a million things simultaneously from a million different perspectives … You may decide to draw out one thread from this thickly woven fabric and follow that single line—like, say, just the vote. But the thread doesn't draw out, it's entangled with too many other threads. You tug and the thread breaks, but you go with that single strand of thread. It's not complete, it doesn't give you the idea of the vast fabric you've pulled it from or the interrelationships you've torn asunder. That's history.
To continue this metaphor, the threads I've tried to wiggle out these past few months from the fabric of women's suffrage were often entangled with other issues of the late 19th and early 20th centuries: racism and anti-immigration sentiments. They were contextualized by instances of police brutality; in 1917, police arrested 33 suffragists, the "Silent Sentinels," for picketing outside the White House and took them to the Occoquan Workhouse, where they were subsequently force-fed, tortured, and beaten. The movement was further complicated by suffragists' perpetuation of gender norms, sometimes presenting women's suffrage in a more palatable way for the general public, while risking the subversion of the very movement and its radicalism. Its methods of political activism also draw connections to the present; current political merchandise, like Bernie Sanders' playing cards, mirror the mass proliferation of women's suffrage playing cards and games that emerged during the early 1900s.
What arises are interesting contradictions. To study the women's suffrage movement isn't simply to examine "the vote," but it is part of a complex narrative of diverging, collective, and contradictory voices spanning generations. For example, Mabel Ping-Hua Lee, a prominent Chinese-American suffragist, led a 1912 suffrage parade in New York along with the Women's Political Union and Anna Howard Shaw. She was the first woman to receive a Ph.D. from Columbia University. While her college degree was consistent with increasing access to higher education for women during the suffrage movement, her advocacy departed from the conventional space of suffragettes, occupied mostly by white upper-class women. In The Chinese Students' Monthly, she penned an article, "The Meaning of Women's Suffrage," advocating for the economic independence for women, while also justifying the right to vote with gender norms: for the sake of "the interest of the Husband" and a "happy marriage." Ultimately, she was unable to vote after the ratification of the 19th amendment due to the 1882 Chinese Exclusion Act. Even within a single story, we see fascinating contradictions and complexity.
As the semester draws to a close, I hope to narrow down my research focus in the coming weeks. I'm excited to continue delving into Special Collections' materials, documenting the layers and layers of nuance that characterize the women's suffrage movement. And despite the complexities and questions I hope to explore further, one thing's for sure…