Enjoy this post by Lubna Azmi, one of our Special Collections Freshman Fellows for the 2019-2020 academic year!
Trying to develop what I was going to research for the Freshmen Fellowship was not an easy task. Anything. I could choose to pursue anything I wanted (within at least a minimal scope of special collections). It's like taking a kid to a candy store and telling them they can have any one type of candy, and only one. And of course, I'm comparing my love for knowledge to a child's obsession for candy, because that just goes to show you my nerdiness.
My lack of knowledge on my new college and city communities became a point of interest, along with exploring art and politics through those facets. And I had always wanted to learn more about the civil rights movement post Martin Luther King Jr's death. Then came the light bulb idea of combining all of those features together.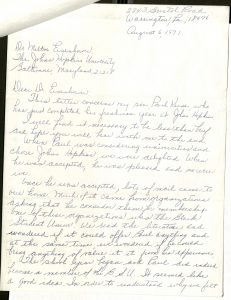 I've gotten to dive into the depths of these topics, ranging from University history with documents between former president Milton S Eisenhower and the parents of former black student Paul Keene talking about the surveillance of black students on college campuses, to the statistics about affirmative action at Johns Hopkins that has shown how short and far our system has come for providing equal opportunity, to finding former JHU student Donald Perry on Facebook, a black activist and the only undergraduate a part of the Committee for Basic Freedoms that advocated for equal rights on campus, and getting the chance to talk to him about his experiences during that time.
Talking to Mr. Perry has been the highlight of my entire research experience. It has brought so much context to all the documents and information I've found. Meeting him and listening to his stories about his academic journey, the racism he faced, the obstacles he overcame, connected me to my research, to Hopkins, and to understanding an era that seems so far away yet is so close to us, in a way nothing else could. Simply getting the chance to have been able to do that is incredible to me, and is not an opportunity that would have arisen if I had not been a part of this program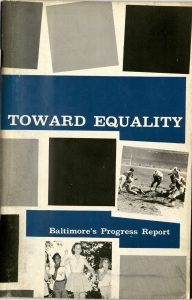 I've learned so much. Bits of information of fallen together like pieces of a puzzle. My research has taken me down so many rabbit holes and has provided a stress-free space for me to truly learn and have no guideline to how I may learn. It has enhanced my view of my school, knowing tiny facts that I've begun to share with my new friends here at Hopkins and my friends and family back home in Northern Virginia. I feel more like a member of Hopkins, because I'm getting to recognize how we have come to be today. As I continue about my research, I have allowed it to lead me rather than me leading it. I've followed the aspects that interest me, and those aspects lead me to new paths, that lead me to new pieces of candy, as the children would say.
I still have so much more to go, and there are so many empty spaces that I have not yet acquired. I'm allowing myself to be free and let be with the research. I'm continuing to learn more every time I sign into the special collection room, which makes me feel like an archivist, and to wisp into my own mind and imagination through every piece of the puzzle.