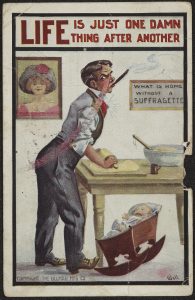 Enjoy this post by Aarushi Krishnan, one of our Special Collections Freshman Fellows for the 2019-2020 academic year!
A few months ago, I had sent my first blog post out into a world quite different from the one I now find myself in. I wrote about my first experiences looking into the anti-suffrage moment, finding myself as a researcher, and my hopes for the future of my project. If only I knew where the next few months were going to take me.

The first half of my second semester as a fellow started off as expected- I dove further into the world of anti-suffragists, a world which will always continue to surprise me. I found it fascinating how a considerable amount of anti-suffrage ephemera could be perceived as pro-suffrage, and sometimes vice versa as well. Prominent anti-suffragists (such as Josephine Jewell Dodge, Emily Bissell, and Nellie Locke, to name a few) seemed fond of satire and lampooning as a form of expression, which doesn't always translate well years later. As time goes on linguistics never stops evolving, and it is interesting to think of how contemporary activism may be perceived a century from now.

Another 'secret' I uncovered was that there were not actually two sides to the anti-suffragist movement- there were three. The anti-suffragists, the pro-suffragists, and the money makers. This third group was the most elusive of them all- I discovered them by accident, perusing a series of postcards. I noticed postcards with virtually identical images, yet one had an anti-suffragist stance and one was pro. Conflicts come and go, but the want for money is eternal.

The anti-suffragist agenda seemed to cover far more than the ballot. Dress-reform, feminine expression and even cooking were all shaped as an outcome of the movement, with suffragists being bashed for their supposedly brazen behavior. The antis wanted their movement to portray a certain lifestyle, and perhaps inadvertently caused other future movements to spring forth in protest.

March brought with it incredibly unexpected news- my classes were suspended indefinitely, and students were asked to move out of campus. I found myself on a plane to my home in India, taking me more than eight thousand miles away from my research. The future looked bleak, to say the least.

I suppose one of the hallmarks of a capable researcher is adaptability. Instead of handling books, postcards, pushpins, and so much more in person, I was looking at pictures of them on the internet. Instead of talking to my mentor Heidi in person, I was sending her far too many emails. I consider myself lucky that I live in an age where I was able to do so much research from my home, an entire continent away from my university- if I had been a student in suffragette times I would have had to abandon my work completely!

Being a Freshman Fellow was such a rewarding opportunity, and I feel so lucky to have experienced it. Being a molecular biology and creative writing major, I was forced to step far out of my comfort zone, and research a topic I most probably would never have come into close proximity with otherwise. As I wrap up my work, I wonder what the next chapter has in store for me. The ambiguity of the near future could be worrying, but in the words of Elizabeth Cady Stanton,
"The best protection any woman can have… is courage."