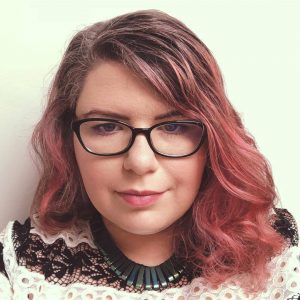 Please enjoy this interview with one of the Librarian's team members at the Johns Hopkins University Sheridan Libraries: Kristen Acampora!
Who are you and what do you do?
My name is Kristen Acampora, and I'm the Events and Marketing Coordinator for the Johns Hopkins University Sheridan Libraries. While I'm not a Librarian, I work closely with them to produce content for the library's blog and social media presence. Additionally, I assist with planning/management/scheduling of workshops and events for the library, and provide internal advertising/marketing services.
Tell us a little about your background. 
I graduated from Maryland Institute College of Art in 2012 with a BFA in Illustration. I've had my work circulate through many different places- I've worked on children's books, comics, editorial art for publishing, I've been published in independently produced anthologies and zines, and have been featured in multiple gallery shows. I'm an active freelancer and am always looking forward to my next project! I'm a professional photographer as well (primarily sport photography), though I haven't been pursuing that as heavily these days (my schedule's been pretty booked!) I've worked at Johns Hopkins since 2017, previously to joining the library's team I worked at the Johns Hopkins University School of Medicine in their Registrar's office.
What is part of your job that people may not know about?
There's a surprising amount of work behind the scenes that goes into social media account management and the events that you attend!
Also, I'm the person who creates the library's LavNotes!
What's the best part about working at the library?
I love my morning commute- I can walk to the library from home, and there's nothing better than starting your morning walking up the slope of The Beach on a crisp morning. As for my job itself, I get to collaborate with lots of folks throughout the library and its different branches- I meet a lot of really great folks regularly and get to frequent interesting places on the Hopkins campus regularly.
What is your favorite hobby?
My husband and I love cooking together! I'm also an active horseback rider, specifically focused on three day eventing.
You have to eat the same thing every day for the rest of your life. What is it?
Sushi, hands down. If it wasn't so budget unfriendly, I'd eat it every day, voluntarily, starting immediately.
Beach or Mountains? Why?
Mountains. The novelty of the beach wears off for me quickly for me, but I do like to visit it every so often.
Will you please draw a picture of yourself to include with your profile?
Here you go: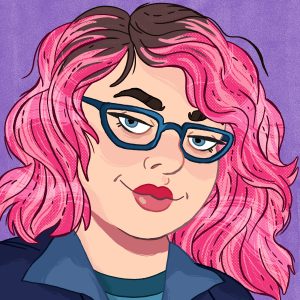 Coke or Pepsi?
Diet coke. My DC addiction is out of control.