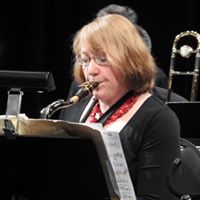 Please enjoy this interview with one of the Librarians of Johns Hopkins University Sheridan Libraries: Dr. Sue Vazakas!
Who are you and what do you do?
Hi, I'm Sue the Librarian. This is the way I introduce myself, because it's more memorable than a surname and it also brings a smile.
I'm the liaison librarian for two KSAS departments (Public Health and Math), and Whiting School of Engineering departments/groups for Applied Math and Statistics, Biomedical Engineering, Computer Science, Electrical and Computer Engineering, Information Security, and the LCSR (Laboratory for Computational Sensing and Robotics), and I also teach some sessions for Professional Writing and Communication classes. I also help select books and journals to buy and do a lot of other things, but working with classes, students, and faculty is about 80% of my time.
And I go to as many department events (including parties!) as possible, because seeing the smiling face of your librarian *in person* is much more effective than hearing from us through email.
Tell us a little about your background. 
I'm a real school nut. I have a college major and two minors, two masters' degrees, and a PhD (Bioethics), plus some other classes from here and there (including modern Greek; I'm a second-generation Greek-American). Before coming to Hopkins, I've worked with technical reports at the MIT Science Library; at Boston University as the librarian for Chemistry and Physics; and in Maryland for a government contractor. I was always a generalist; having an interdisciplinary background is *great* for being a librarian, because we have to know something about everything.
What is part of your job that people may not know about?
I can do anything I want to! Whenever I hear about a committee or student group that's interesting to me, I contact them to ask if I can help out. For example, I've introduced myself as the Unofficial SciFi Librarian to HopSFA (Hopkins Science Fiction Association), and joined a faculty committee to plan for the new MCAT (2015). It has also been my privilege to sit in on meetings of the Johns Hopkins Hospital Ethics Consultation Committee. I got involved with the LCSR because robots are incredibly cool. So being able to participate in any JHU thing I like is just amazing.
What's the best part about being a librarian?
Telling students about different kinds of information, where to find them, and how to use them. They're always amazed to see so much more than what they knew existed! They will need these skills *forever*, and it's my responsibility to explain why this stuff is important and teach them how to use it. Plus, everything is interesting! That's why I'm always so enthusiastic, and I've often been told that students appreciate that and that I make research less scary. That absolutely delights me – that's why I'm here!
What is your favorite hobby?
I play tenor sax (and clarinet, mercifully infrequently) in a Big Band. We play swing music from the greats such as Benny Goodman, Glenn Miller, and Count Basie, as well as big band jazz. I'm the band's archivist and one of its social media people. There's no better feeling than being on stage and launching into that first tune for the crowd!
You have to eat the same thing every day for the rest of your life. What is it?
Baskin Robbins Mint Chocolate-Chip Ice Cream. (Yes, Graeter's "chip" flavors, I love you too… wait, I need to ponder this question longer. Someone bring me a whole lot of both of these so I can run experiments.)
Beach or Mountains? Why?
Beach. Ocean to watch and listen to, sand to walk on, really good seafood/ice cream/wonderful things to eat, and LOTS of time to read.
What show have you binge watched recently?
Deep Space Nine, Fringe, Babylon 5, Firefly. I do not have CBS Pay Us Cable, so unfortunately I'm missing Star Trek: Discovery and Picard.
Will you please draw a picture of yourself to include with your profile?
No freaking way.