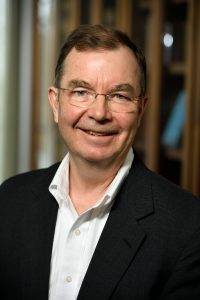 Please enjoy this interview with one of the Librarians of Johns Hopkins University Sheridan Libraries: Jim Gillispie!
Who are you and what do you do?
I'm the new Social Science Librarian for Public Health Studies, Economics, and Government Information.  I started in this exciting new role on Nov. 15, 2019.   During my first few months on the job my focus has been working with Johns Hopkins students and faculty in their search of statistical, legislative, legal, and public policy sources for their projects, papers and coursework.
Tell us a little about your background. 
I've been a librarian with Johns Hopkins since 1981.    Originally from Minnesota, where I did my college work in geography and library science, I first joined the staff as a member of the Eisenhower Library's Government Publications, Maps and Law Department. Throughout my career, I've participated in many aspects of the Library's operations including Access Services, GIS, and maps.  One of my passions is teaching.  Over the years, I've been asked to teach hundreds of course integrated sessions alone or in consort with my Sheridan Libraries colleagues.  Co-teaching is one of my favorite collaborations.  I am also the instructor for a semester long class titled Government Data and Information  that I teach for the Library Science graduate program at The Catholic University of America in Washington D.C.
What is part of your job that people may not know about?
Working with the materials produced by international/intergovernmental organizations (IGOs) such as the United Nations, World Bank, European Union,  FAO, IMF etc.
What's the best part about being a librarian?
Ensuring our Johns Hopkins community can find, use and understand information.
What is your favorite hobby?
I'm an amateur woodworker, I like building boxes, tables, bookcases.   If I had time I would like to experiment building chairs.
You have to eat the same thing every day for the rest of your life. What is it?
Eggs – a useful food that one can combine with everything.
If you could travel in time, what event/time period would you visit?
The future, where we're going always excites me.
If you could choose a fictional character as a best friend, who would it be and why?
I like many fictional characters, but having one as a best friend seems a little creepy to me.
Beach or Mountains? Why?
I love walking on the beach and in the mountains.  Both places remind me just how awe-inspiring our physical world is.   The geographic places that keep calling me back are Niagara Falls, Rocky Mountain National Park, and the promenade at Griffith Park Observatory where I can look east to the San Gabriel Mountains and south over the city of Los Angeles.
If you weren't a librarian, what would you be? Why? 
I was born to be a librarian.
Name three songs that would be on the soundtrack of your life.
"Downtown" (by Petula Clark),  "Walkin' In the Rain" (by Jay & the Americans),  "Oh Girl"  (by the Chi Lities)
You're in a world-famous rock band, what do you play and why?
The piano. It's such a marvelous, versatile, and mechanical instrument.  I'm mesmerized by the way the keys, hammers, strings, pedals work together to produce such a wonderful sound. .
Coke or Pepsi?
None of the above.  My favorite is Fresca – that bubbly grapefruit taste.