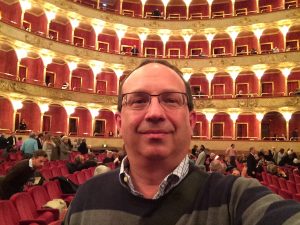 Please enjoy this interview with one of the Librarians of Johns Hopkins University Sheridan Libraries: Stephen Stich!
Who are you and what do you do?
Stephen Stich, Academic Liaison Librarian to the departments of Chemistry; Earth and Planetary Science; Chemical and Biomolecular Engineering; Civil and Systems Engineering; Environmental Health and Engineering; Materials Science and Engineering; Mechanical Engineering; and their associated Johns Hopkins Institutes. I provide library support the research and teaching that goes on in these departments on the Homewood campus.
Tell us a little about your background.
I am a native Californian, with an MLS from San Jose State University, focusing on special libraries, and a degree from California State University at Sacramento, in Geography with a focus on Urban Studies. I am professionally involved with the American Society of Engineering Education. I remain active with the Development Committee of the Engineering Libraries Division of ASEE. Prior to my arrival at JHU in 1998, I was professionally employed in New York City by the libraries at New York University, Polytechnic University, and the Cooper Union.
What is part of your job that people may not know about?
One common misunderstanding is that the librarians are here to help to the students, and they can be interrupted.
What's the best part about being a librarian?
Working with the amazing students, staff and faculty at Johns Hopkins.  The diverse and fascinating research keeps me engaged.
What is your favorite hobby?
Travel, travel, travel
You have to eat the same thing every day for the rest of your life. What is it?
Thai Sticky Rice & Mango
What show have you binge watched recently?
The original Dark Shadows TV series, and the Thunderbirds (the British science-fiction tv series)
What's the best concert you've ever seen? What made it special?
So many concerts, so many to choose from… A truly memorable show was one of my earliest, Bob Marley and the Wailers. 3000 people moving together with the rhythm of reggae, to the point where the theater was actually swaying along with them. The lateral movement of the building was very intense in the balcony where I was standing. Unforgettable!
Coke or Pepsi?
Coke Zero
What's on the ideal sandwich?
Tony Luke's roast pork sliced thin, sautéed broccoli rabe and sharp provolone