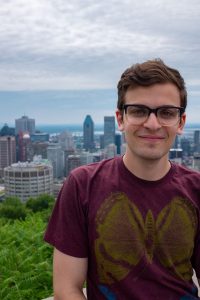 Please enjoy this interview with one of the Librarians of Johns Hopkins University Sheridan Libraries: Sam Bessen!
Who are you and what do you do?
I'm Sam, and I'm the Assistant Curator of the Lester Levy Sheet Music Collection. This is a collection of about 30,000 pieces of sheet music that follows pretty much all of US history. I'm responsible for assisting people researching the collection, creating exhibits of the sheet music, and otherwise making the collection more visible and accessible. The position is only two years, so I'm trying to accomplish as much as I can!
Tell us a little about your background.
All of my formal education is actually as a French Horn player—I have a Bachelor of Music from the University of Denver, and I got my Masters degree here at Peabody. I've always been interested in public programming and working with historic collections to inform performances—my side project for the last few years has been the In the Stacks series at the George Peabody Library. Within the arts, I'm care about creating multidisciplinary collaborations, seeking out stories from underrepresented communities, and making the arts more financially & contextually accessible.
What is part of your job that people may not know about?
The dust allergy is real. I have the pleasure of working with many old documents—I'm currently going through about 15 boxes of correspondence and business documents, but they're making me sneeze more than ever.
What's the best part about being a librarian?
I really enjoy helping people with their research— I've been amazed at the topics people are willing to spend months or years focusing on. The most rewarding so far was helping someone discover the pieces their great-grandfather wrote by searching music advertisements in 19th century newspapers.
What is your favorite hobby?
I'm obsessed with rock climbing! I've been climbing (mostly indoors) for about 9 years, and I go as many days as my arms will let me. It's fun, social, and a great way to get my mind off any worries/anxieties I might be feeling. I'm actually writing this while all of the gyms are closed due to COVID-19, and have already found a stone bridge to climb on for now.
If you could travel in time, what event/time period would you visit?
I would love to have been at the premiere of Stravinsky's "Rite of Spring" in Paris in 1913—it's one of my favorite orchestral pieces, but it's very dissonant and percussive. According to reports of the premiere, the audience hated it so much they actually rioted.
If you could choose a fictional character as a best friend, who would it be and why?
Probably Daenerys Targaryen, Mother of Dragons, from Game of Thrones (pre Season 8 of course). Free dragon rides.
Beach or Mountains? Why?
Mountains for sure. My undergrad studies were in Colorado, so I fell in love with the Rockies. I also spent summers living in Idaho, Wyoming, and Vail so I could hike as much as possible. The mountains are probably what I miss most living in Baltimore.
What show have you binge watched recently?
I love the Great British Baking Show. I rarely bake and I avoid dairy and sugar, but it's just the happiest show. Other favorites are The Office, Parks & Rec, Game of Thrones, Westworld, and the Good Place.
What's on the ideal sandwich?
This answer also applies to the bread itself—the waffle sandwich at Rocket to Venus (Hampden): two waffles, chicken strips, and buffalo sauce. No further explanation necessary.