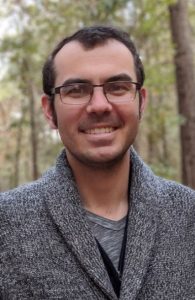 Please enjoy this interview with one of the Librarians of Johns Hopkins University Sheridan Libraries: Mack Zalin!
Who are you and what do you do?
My name is Mackenzie (Mack) Zalin and I'm the Librarian for Modern Languages and Literatures & Comparative Thought and Literature at Johns Hopkins University. I spend a good deal of my time overseeing collection development in French, German, Spanish, Italian, Portuguese, Hebrew, and Yiddish, but work in instruction, reference, special collections, and scholarly communications (as one of the humanities representatives to the Sheridan Libraries' group) also keep me very busy.
Tell us a little about your background.

Before becoming a librarian (MSLS, University of North Carolina-Chapel Hill), I trained as a classicist (PhD, Duke University). My first academic love, though, was Spanish, going all the way back to elementary school. After I learned about the relationship between Latin and Spanish in high school and how they could be combined (along with history, archaeology, travel, etc.) under the umbrella of Classics, I ended up getting bachelor's, master's, and doctoral degrees in this field. Doing so ultimately required me to learn most of the languages I now oversee in the Sheridan Libraries (plus Latin and Greek, which my colleague and friend, Don Juedes, oversees). As you can probably tell, I love languages (a "philologist", as some might still call me) about as much as I love libraries, so I am fortunate to be able to combine them here at Hopkins.
What is part of your job that people may not know about?
A lot of people may be surprised to learn how extroverted librarianship is as a profession. Though I do spend a fair amount of time each day in my office researching what to buy for the collection and answering emails, the bulk of my work entails talking face to face with students, faculty, and staff from across the university. Personal interaction with a variety of stakeholders is a great way of checking what I think I know about a given issue and how it could be addressed better. It also helps to keep things from becoming stagnant (not that the incredibly varied tasks of the librarian really allow for this in the first place).
What's the best part about being a librarian?
I love that everything I've ever learned (or ever will learn, for that matter) has the potential to be relevant in a library. This is especially true at Hopkins, where work in the humanities is incredibly interdisciplinary.
What is your favorite hobby?
I've played clarinet and bass clarinet in a variety of ensembles since high school. One of the harder things about moving from North Carolina to Baltimore to take up my position at Hopkins was leaving the Durham Medical Orchestra (formerly the Duke Medicine Orchestra), in which I played for many years. The good news is that there is no shortage of ensembles here, so I'm looking forward to starting back up with music, hopefully later this year.
You have to eat the same thing every day for the rest of your life. What is it?
I'm a big supporter (and fan) of the Mediterranean diet in every form, so I could probably eat any staple from this cuisine every day (as long as it were fairly fresh).
If you could choose a fictional character as a best friend, who would it be and why?
This is a tough one, but I'd probably have to go with Dunstan Ramsay from R. Davies' book Fifth Business, since I've always aspired to be the kind of quietly adventurous yet introspective polymath that I remember Ramsay was made out to be in that novel. I'd also settle for being best friends with Indiana Jones.
If you weren't a librarian, what would you be? Why?

I was going to say orchestra conductor or composer, but I'd need to be a lot more talented musically than I am to be either. Even if I were, I'd probably still enjoy being a librarian more.
What's the best concert you've ever seen? What made it special?
My wife and I trudged through heavy snow to see Sharon Jones & The Dap-Kings when they came to Durham in 2014. It was an incredible set, made all the more satisfying by a harrowing walk through the remnants of the winter storm. Sharon Jones passed away in 2016, so I feel even more fortunate that I got to hear and see this amazing performance before the group disbanded.
Coke or Pepsi?
I feel like I'm betraying my North Carolina cred, but I think I'd have to go with Coke (with cane sugar, not corn syrup). I've been to the birthplace of Pepsi in New Bern, NC, though, and I thoroughly enjoyed my experience there.