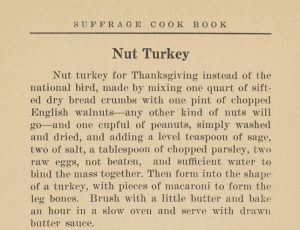 Meat substitutes are having a bit of a moment, with popular products like the Beyond Burger introducing more and more people to plant-based meals.  But "fake meat" is nothing new at all! An abundance of American 19th and early 20th century vegetarian recipes can be discovered in the historic cookbooks of Special Collections. Called "mock meats" at the time, these foods were often little more than a mixture of poorly seasoned grains and nuts. That is, until the birth of the ultimate mock meat: the nut turkey!
Yes! A Thanksgiving turkey made out of nuts and breadcrumbs and all sorts of herbs and spices and then magically molded into the shape of a roasted turkey, wings and all. It is very nutritious and a little bit kitschy. With the nut turkey on your plate, you will no longer feel like the odd vegetarian out at Thanksgiving.
What I love about the nut turkey recipe is that not only is it easy to make, but it is really fun and cute in an offbeat way, guaranteed to make quite an impression on Zoom and at the dinner table alike! It's also a recipe that shows how American cookbook editors dating back to the late nineteenth and early twentieth centuries were attempting to accommodate their vegetarian readers.  For instance, the nut turkey recipe I am sharing with you isn't from a vegetarian cookbook; instead, you will find it in the 1915 Women's Suffrage Cookbook published by The Equal Franchise Federation of Western Pennsylvania. You read that right! You can commemorate the passage of the 19th Amendment and pay tribute to suffragette vegetarians of yore by bringing a nut turkey to your Thanksgiving feast!
Old recipes can be a bit challenging to decipher simply because they lack certain things we expect to see in a recipe, such as serving size, ingredient and equipment lists, and standard heating instructions. I have adapted the recipe to be more in keeping with how we cook today.  Do note, though, that the nut turkey as imagined in the recipe is huge and would certainly serve at least 10 people.  I suggest halving the ingredients listed below and making an adorable nugget of a nut turkey instead of a giant gobbler. The recipe can also be accommodated for a vegan dish. Simply replace the butter with olive oil and the eggs with your favorite egg substitute.
Ingredients
Equipment
Instructions
Eggs: 2

Breadcrumbs: 4.5 cups

Chopped walnuts: 2 1/3 cups

Roasted peanuts (or other nut of your choice): 1 cup

Water or Vegetable Broth: 1 to 1.5 cups

Sage: 1 teaspoon

Parsley: 1 tablespoon

Salt: 2 teaspoons

Butter: 2 to 3 tablespoons, melted

Elbow macaroni: 4 uncooked macaroni "to form the leg bones"

Measuring Cups

Teaspoons & Tablespoons

1 large mixing bowl

1 large whisk

1 large spatula

1 cookie sheet

Non-stick spray

Toothpicks

Pre-heat oven to 350 degrees

Whisk the breadcrumbs, nuts, eggs, and spices in a large mixing bowl until well-blended.

Added water or broth to the mixture to help it bind.

Shape the mixture into a turkey shape, with legs and wings. Add the macaroni to the end of the legs, if desired. You may need to use toothpicks for the legs and wings to stick to the body.

Carefully place the turkey atop a greased cookie sheet.

Baste the melted butter over the nut turkey.

Cook for 30 minutes to an hour, depending on the size of the turkey.
If you decide that you want a nut turkey in your life, the photos below will show you a bit of the culinary journey that is in store for you (do go wild with the jarring direction about adding "pieces of macaroni to form leg bones"). Plus, the aromas coming from your kitchen will make one think they have inadvertently stumbled upon a boxed stuffing-peanut processing factory.   As for flavor, the nut turkey simply tastes like a super-hearty nutty stuffing. It will pair nicely with all the traditional Thanksgiving fixings, from cranberry sauce to mashed potatoes!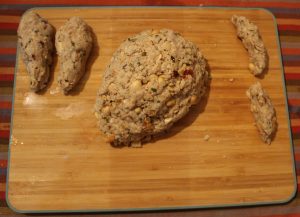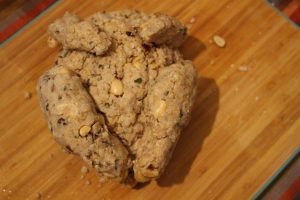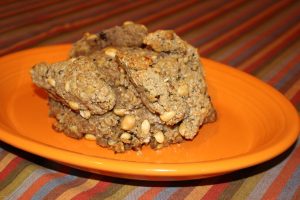 So, perhaps the nut turkey just isn't your thing, but you would still love to contribute a dish or two for Thanksgiving that speaks to the history of vegetarianism in America.  Maud Russell Lorraine Sharpe, the author of The Golden Rule Cook-Book, has you covered. Sharpe was a fascinating animal welfare advocate and trendsetter in early 20th century America. Her vegetarian activism was rooted in concerns that we still discuss today: animal cruelty, exploitation of workers in slaughterhouses and meatpacking factories, and how the meat industry impacts the environment.  She even popularized fake fur and fake leather goods!
Sharpe's cookbook proved popular with the American public, and it went through many editions between 1908 and 1926, thus influencing how aspiring vegetarians ate in the early 20th century. She was not a fan of vegetarian food that sought to mimic meat in appearance, so our much beloved nut turkey would not be a welcomed guest at her Thanksgiving spread. Instead, she proposes a Michaelmas loaf to take the place of the poultry. The recipe is very similar to the nut turkey, utilizing a variety of grains, nuts, and spices. According to her Thanksgiving menu, the loaf is to be accompanied with a variety of other dishes such as asparagus in butter, roasted sweet potatoes, and pumpkin pie. While our cherished copy of the book is safely stored at the George Peabody Library, the entire cookbook is available online so you can recreate an entire seven-course vegetarian Thanksgiving feast if you so desire!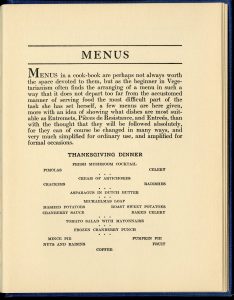 If a fresh mushroom cocktail or tomato salad with mayonnaise doesn't float your boat, you can then always go back to the early eighteenth century and forage through the pages of Adam's Luxury, and Eve's Cookery, or, The Kitchen-Garden Display'd (1744) whose title page boasts "a large collection of receipts for dressing all sorts of kitchen-stuff so as to afford a great variety of cheap, healthful, and palatable dishes." The book, which can be read online via the Library of Congress, contains hundreds of preparations for a variety of garden vegetables, including autumn favorites like parsnips and carrots. For instance, the recipe for parsnip puffs sounds delicious: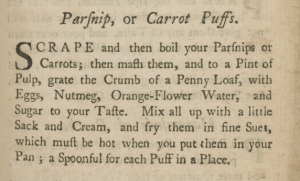 Plus, it would be an absolute taste sensation with our friend the nut turkey! Image the cute little charmer surrounded by a garden of parsnip puffs. A new Thanksgiving tradition could be yours!