So, just what are you looking for when it comes to the ideal game? Do you want it to be an "eye-opening", "uproariously funny," "winterful of fun"? Then look no further because Special Collections has the most perfect game in the world for you: Pank-a-Squith!
Pank-a-what? Pank-a-Squith is a pro-women's suffrage board game in which the goal is to avoid all the pitfalls of suffragette life, such as run-ins with the police or nasty remarks from politicians, in order to storm the House of Commons and get "Votes for Women"! The game's title refers to the names of two prominent individuals in the suffrage conversation, the suffragette Emmeline Pankhurst and Prime Minister Herbert Asquith. The game dates to 1909 and was meant to be a novel form of advocacy for the Women's Social and Political Union (WSPU). Even the colors of the WSPU –purple, green, and white–are incorporated into the design of the board.
And what a board it is! The board is illustrated with scenes that evoke the life of a British suffragette. You see her breaking the windows of the Home Office, proudly marching in parades,  starting a hunger strike, and motoring about town in an automobile decked out with suffrage flags!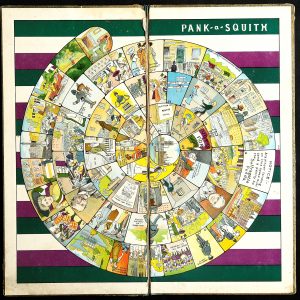 There are some pretty sassy squares, too: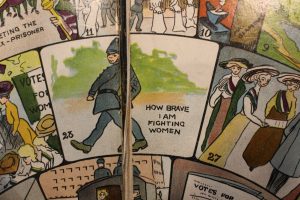 You so want to play this game, right? You are in luck! You can play the original Pank-a-Squith during our second annual Vintage Game Night in Special Collections! This year's event, featuring over a dozen vintage board and card games, will focus on games that were either designed for women and girls to play or center on women's history. Don't feel like being a suffragette? Perhaps you can reign over the evening as prom queen!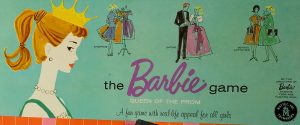 Are you looking for love, and Tinder just isn't cutting it? Find your ideal dud or stud with Mystery Date!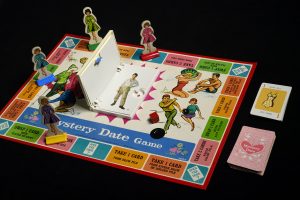 Do you love games that involve player profiles and arguments? Then play a sensational round of Women's Lib? You can play as a feminist, a chauvinist, or a moderate. The choice is yours!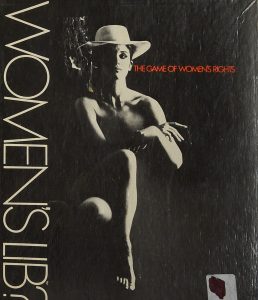 Or perhaps you looking for a career change and want to follow the sage wisdom of  What Shall I Be? A Game for Girls.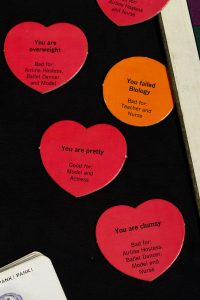 Don't worry! You are still a winner in our book even if you are too clumsy and have failed biology.  A variety of fun prizes will be on hand for all our vintage gamers!
Vintage Game Night will be held on Wednesday, March 4 from 7pm-9pm in Special Collections (M-level, Brody Learning Commons). The event is free and open to the public!