"Love me, Love my Vote" proclaims a cherubim-faced little girl who is staring directly at the viewer and pointing proudly at her "votes for women" sash.  The postcard, designed by the popular commercial artist Ellen Hattie Clapsaddle for Wolf & Co.,  links sentiments of love with the sheer purity of women fully participating in democracy. Surely, we are witnessing a moment of feminism triumphing at the marketplace, right? Well, not really.
Clapsaddle also designed an accompanying card featuring a similarly bonnet-clad  girl. This time, the little lady, with her eyes modestly downcast, is promoting a decidedly anti-suffrage message: "Woman's sphere is in the Home." What a St. Valentine's Greeting!
Welcome to the bizarre world of women's suffrage Valentines where cupid meets politics!
The postcards designed by Clapsaddle are not the only instance of a commercial company seeking to turn a profit off of  women's suffrage themes without alienating consumers.  Here are two from Cincinnati's Gibson Art Company:
Alas, anti-suffrage Valentines outnumber those with either ambivalent or decidedly pro-suffrage views.  The Valentines will often play upon the theme of traditional gender roles: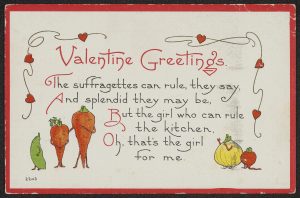 They also indicate that women involve in suffrage activism have no time at all for matters of the heart: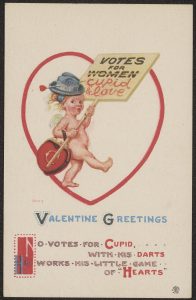 A special genre of anti-Valentines, known as Vinegar Valentines, played upon stereotypes of suffragists. Vinegar Valentines became quite popular in America starting around the mid-nineteenth century, and were intended to rudely and humorously send pointed greetings to those one loathed. And let's just say there were some pretty strong feelings surrounding women and voting rights, making suffragists ideal subjects for nasty messages.  In particular, they are shown as "mannish" unappealing women,  whose hard-won right to vote leads to nothing but neglected children, dyspeptic husbands, and flightiness at the ballot. Lest you think such rude and mean-spirited sentiments were never sent, just look at what one poor Mary Coil had to contend with on Valentine's Day.
Perhaps it can at least be implied that suffragists were rather snazzy interior decorators? That chair is major home furnishing goals.
However, let's not end our exploration of suffrage Valentines on such a sour note!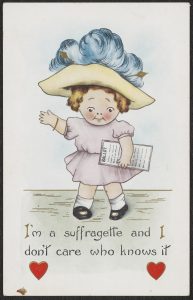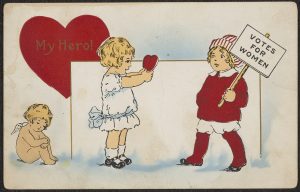 View our album for additional suffrage Valentines and other materials pertaining to the long road to the 19th Amendment ! You can also stop by Special Collections and pick up your very own "votes for women" Valentine.