We, librarians, are fortunate that we get to meet a lot of incoming Hopkins students. We often request that they give us their "burning questions" — about Baltimore, Hopkins, the library, life, and love, etc. We've curated some of their questions and their answers into a series of blog posts that we hope will address some "burning questions" of your own.
Q: Does the library have a graphic novels section?
A: Until fairly recently, the presence of comic books and graphic novels in the world of academia would be debated. However, the place of comic books and graphic novels in academia is becoming increasingly important. In recent years, there has been a growing recognition of their literary and artistic value, leading to their inclusion in academic curricula.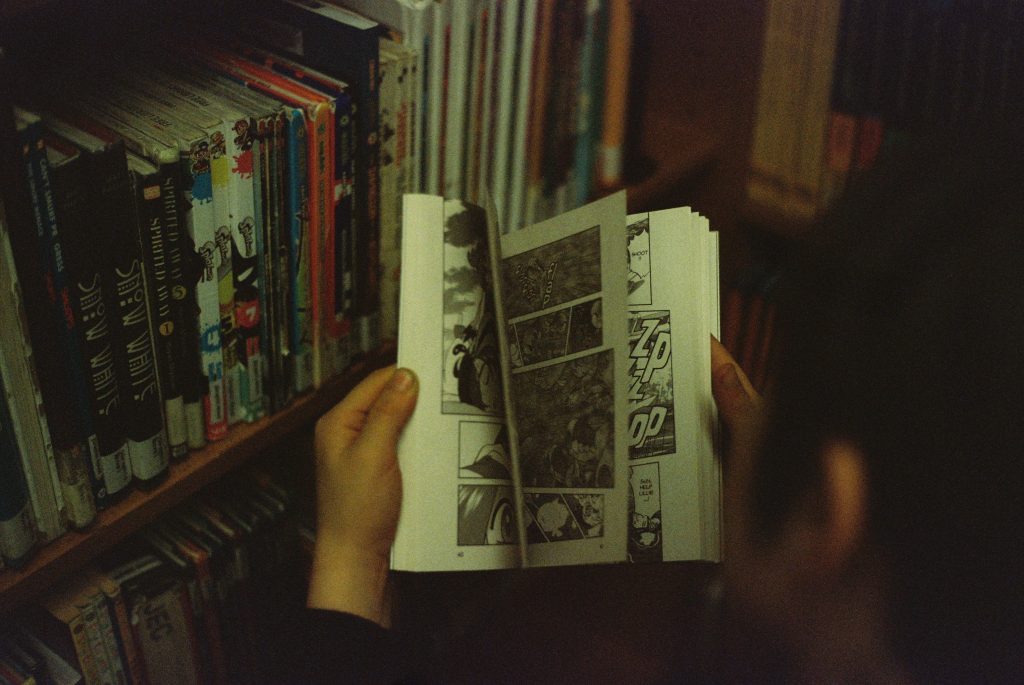 So, whether you are studying the artistic value, the social issues addressed, or the history of the medium, the library has you covered!
But, where are they?
It can be hard to find comics in a library because comic books and graphic novels do not fit into a single genre. They cover all manner of subjects both fictional and non-fictional. This is because comics and graphic novels are not a genre of material but a medium that covers everything from cookbooks, graphic medicine, biographies, journalism, superheroes, and so much more.
Luckily, you have your friendly neighborhood librarians to guide you!
Let's take a look at online resources first. We have a number of databases that offer comics and graphic novels.
"Underground and Independent comics, comix, and Graphic Novels" – this database offers over 200,000 pages of comic books, interviews, as well as comics criticism and commentary.

Database highlight: the works of EC Comics. This publisher of crime, horror, and war comics was so controversial that it was at the center of a Senate decency investigation around comic books in the 1950s. While that investigation set EC Comics on a downward trajectory, EC has lived on in various properties such as Tales from the Crypt.

Proquest E-Books – This collection of e-books has a lot of buried comic treasure! It is, however, buried. The best way I've found to access and browse the comics is through the Advanced Search feature. There, use the dropdown menu to select "BISAC Subject Headings," then, in the search bar enter "comics & graphic Novels" and hit enter.

Database highlight: it's hard to choose just one! I would say the presence of titles from Image Comics like "Saga" or "Man-Eaters" is really great. It has Boom! Studios' licensed properties like "Dune," "Firefly," and "Buffy the Vampire Slayer." If manga is more your thing, Proquest also offers a lot of titles from TokyoPop.

Project Muse – This database is a bit light in providing actual comics but offers a lot of examples of comic criticism and critique. Anyone interested in studying or using comics in an academic way would truly benefit from the information hosted here.

Database highlight: The University of Mississippi publishes wonderful monographs on various issues related to comic studies. Many of these are available through Project Muse. Project Muse also offers Ink: The Journal of the Comics Studies Society, from The Ohio State University.
We also have a lot of great titles in the library. But, much like our database resources, they can be tricky to find. The best way I've found, so far, to browse our comics is to do a Catalyst search using "Comic books, strips, etc." (with quotation marks), in the search bar. Once you have your results, use the sidebar menu and, under "Access," select "At the Libraries." While this will return a mixture of monographs and comic books, it is the best way to find a more concentrated list of our holdings.
For more information about comics (whether in academia or for fun) and how to find and use them, check out our Comic Books and Graphic Novels research guide.
Excelsior!

(This content was originally posted on the blog in an April 3, 2023 post entitled "Where are the comics?!")