Do you have an idea you wish you could make, if only you had the tools? Lucky for you, Johns Hopkins University has a Makerspace for just that purpose.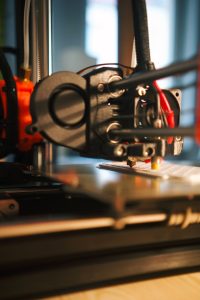 Located in FastForward U, the JHU Makerspace makes a variety of tools available to students, faculty, and staff regardless of their school affiliation. In fact, priority usage of the Makerspace is given to students, faculty, and staff who are working on personal projects, not coursework, grant-funded or commercial projects. Engineering students who need a place to work on projects for coursework or research are encouraged to use the facilities at WSE Manufacturing.
So what kind of tools are there? Just about anything you could need to get your project out of your head and into the real world! It offers 3D printers, Laser cutters, a vinyl cutter, an electrical station, a wood shop with a CNC machine, and a spray booth to make sure your idea looks its best.
What could you make with all of that? The sky is the limit! These types of tools have been used to make furniture, toys, robots, musical instruments, signs, clothing, jewelry, even other 3D printers and so much more. But if you are looking for inspiration, check out projects others have made or the Makerspace's Instagram account. Alternatively, consider the types of projects that are available (often for free) on sites like printables.com, thingiverse.com, and many others.
What if you don't know how to use the tools? No worries! The Makerspace will teach you how to use them and even staffs the space with student assistants who are on standby to help you with whatever you need. In fact, basic training on the individual tools is required before you can use them. Don't be intimidated though. It is a great opportunity to have hands-on instruction in small groups or even one-on-one to ensure that you are safe. Make sure to check the website or the JHU Makerspace Channel on HopkinsGroups to see what training they have coming up. Some of the upcoming training sessions include how to make a synthesizer, earrings, or use a laser cutter to engrave a travel mug.
So, take a short walk over, grab lunch at R House, then use your creativity to make the world a little better at the Makerspace!