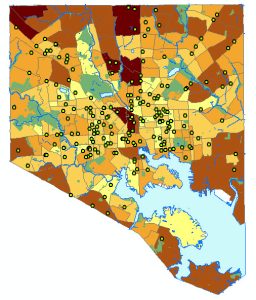 When we think about places in our local community what often comes to mind are those anchoring businesses where we shop and connect with our neighbors. Places like our favorite pizza parlor, supermarket, barbershop, or drugstore. In studying communities, researchers recognize that business type and location have the potential to add or detract from the vitality of the surrounding area. With the availability of library licensed business location databases, it is now easier than ever to take a closer look at changes in business patterns over time and then visualize that business data in combination with other demographic factors such as consumer spending, age, diversity or neighborhood walkability.
In the library, we offer three exceptional subscription databases for business location with coverage extending back to 1969.
Data Axle
For each business establishment, Data Axle includes precise location details (i.e. address and latitude/longitude coordinates) along with an extensive array of descriptive variables including sales volume, number of employees, owner/manager information, business/industry classification codes and more. New users will likely gravitate to the advanced search option where they can tailor their search using drop down boxes, keywords and user specified geographic area boundaries. Coverage includes currently operating business as well separate annual business files for business dating back to 1997. Export of business locations from the Data Axle is limited to 500 records per export.
Wharton Research Data Service (WRDS)
For Johns Hopkins folks needing bulk download, more than 500 historical businesses locations, WRDS is the answer. The data here also comes from the annual Data Axle files, back to 1997. Users of geographic information systems (GIS) will find WRDS invaluable for its easy export of large numbers of records that can be added to GIS map project.
Mergent Data Explr
For business back to 1969, Data Explr offers business location records collected by Dun and Bradstreet Inc. Data for bulk data download include business address, latitude/longitude, and five additional variables – standard industrial classification code, year business started, sales, and employee count.
For help getting stared with any of these library business location databases contact:
Jim Gillispie
Social Science Librarian for Public Health, Economics, Government Information
jeg@jhu.edu
410-516-8435