As an early form of social media, sheet music covers and lyrics trumpeted the latest and most exciting inventions and movements. It's therefore no surprise that the creation and development of air travel was thoroughly documented through this musical medium.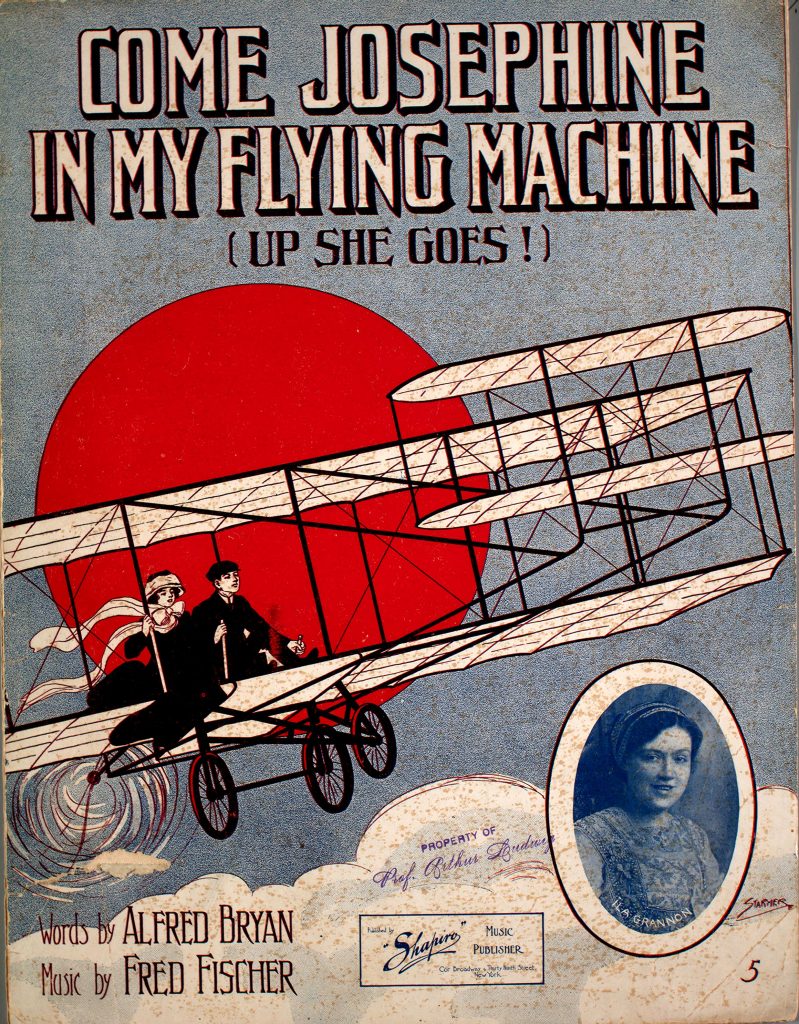 One of the biggest hits to emerge from the Tin Pan Alley era of sheet music production was "Come Josephine In My Flying Machine." The song was first recorded by Blanche Ring, followed by the famed duo Ada Jones and Billy Murray in 1910 (warning—this one's an earworm). A few lines of the hit can also be heard in James Cameron's Titanic—one sung by Rose as she's awaiting rescue ("Up she goes"), and in a deleted scene that features Jack and Rose singing the song together.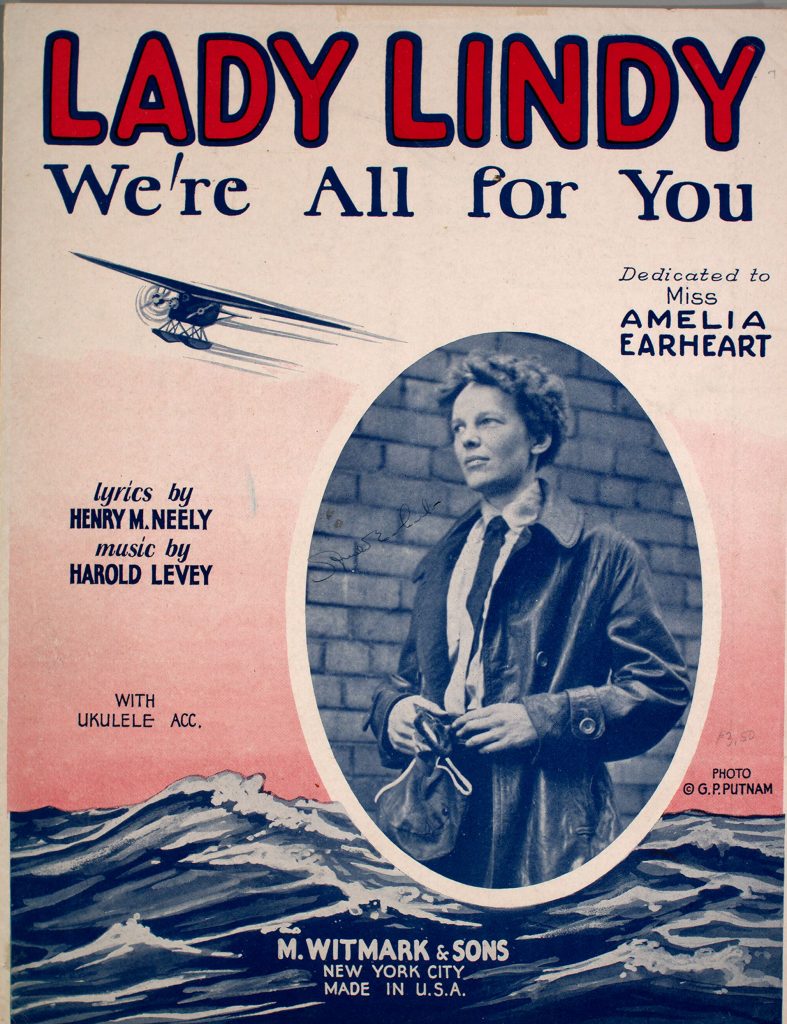 Amelia Earhart's autograph on this song (to the left of Earhart's image) was pointed out by Lester Levy in his correspondence with a colleague. The song was published in 1928, the year Earhart became the first woman to fly across the Atlantic as a passenger (she flew the trip solo in 1932). The lyrics celebrate her renown in the United States: "Your pluck has shown the world what Yankee girls can do…but Lady Lindy, as you soared far up above, you sailed into a nation's heart, a nation's love."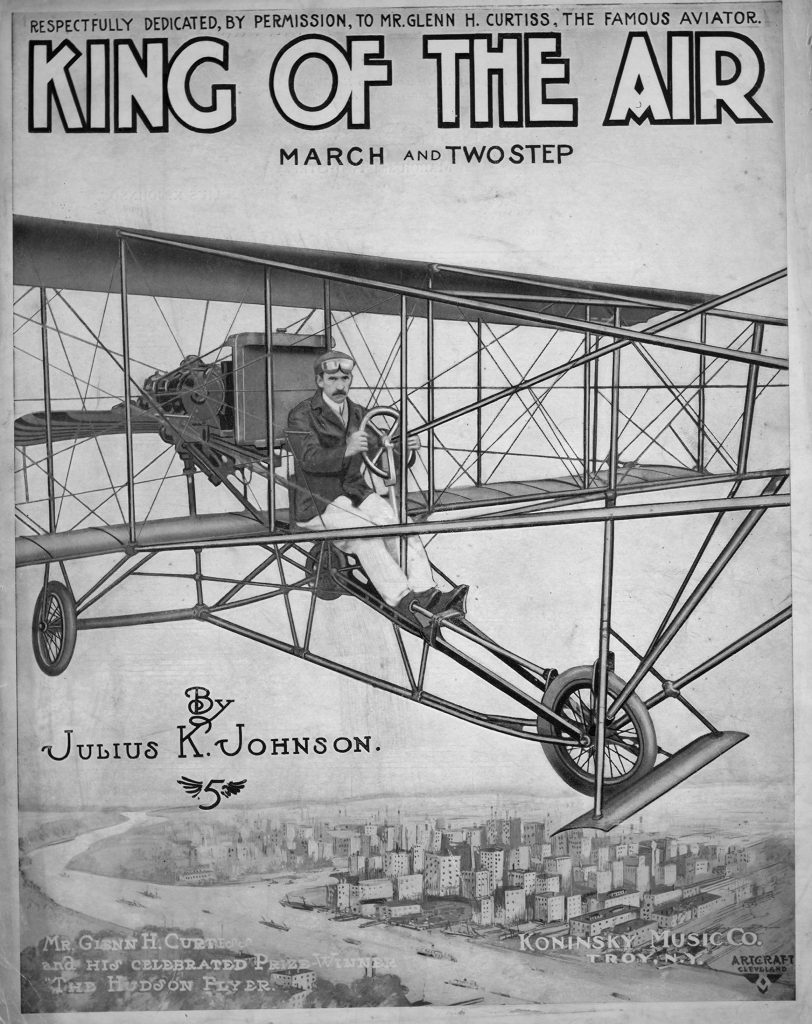 King of the Air was published in Troy, New York—a city not typically associated with sheet music activity. The song with lyrics is dedicated to Glenn Curtiss, a famous aviator and aircraft builder. Composed in 1910, it was published before Curtiss' planes were extensively used in the first World War.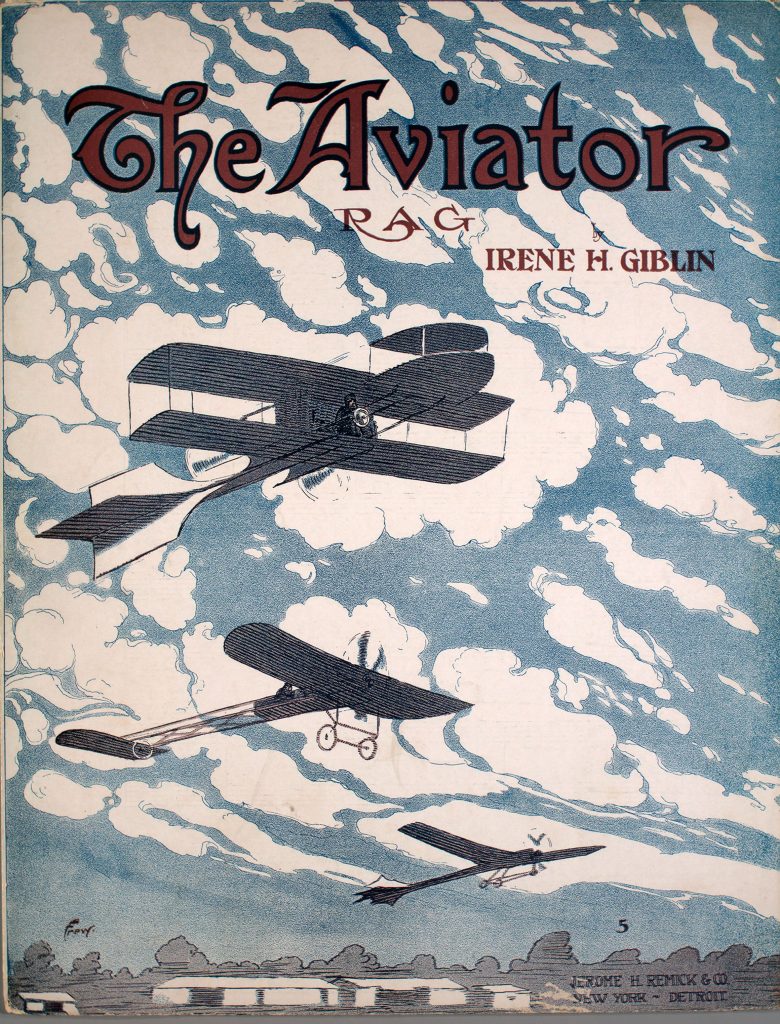 The Aviator Rag was published by Irene H. Giblin and "lovingly dedicated to my parents." Also composed in 1910, it features some ragtime rhythms, but not as heavily as in well-known rags like those of Scott Joplin.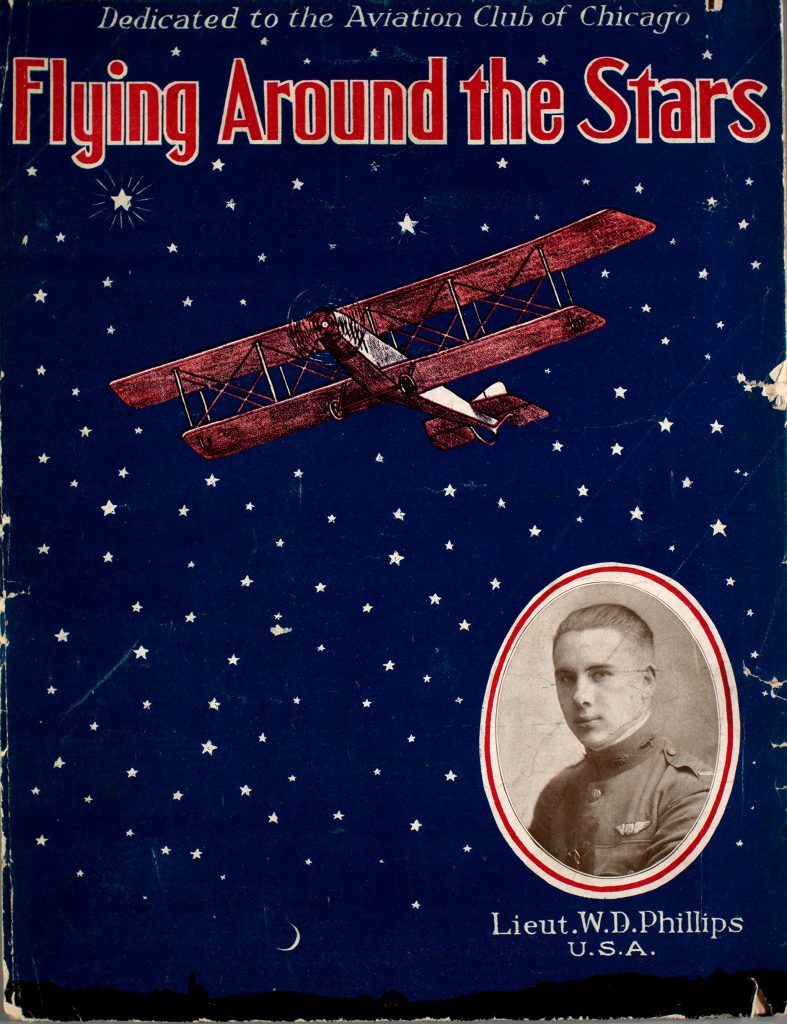 This song, published in 1921, is dedicated to the Aviation Club of Chicago. Mentions of the aviation club appear in the Chicago Tribune as early as 1918, although there are earlier mentions of other aviation clubs. The lyrics reflect an optimism that the air industry will quickly expand:
"Talk about your aviators aviating high, they will look like submarines when I begin to fly. I will build an airship that will travel thru the air at a thousand miles an hour, I'll do it I declare." Of course, I immediately looked up the world's fastest aircraft—the title belongs to the Lockheed SR-71 Blackbird, which can reach up to 2,100 mph.
In fact, many of these early aviation songs mention wanting to immediately fly to outer space— "Come Josephine" has the lyric, "Whoa! Dear, don't hit the moon." Of course, our connection between music and space flight hasn't waned, with artists ranging from Black Sabbath, David Bowie, and Elton John to John Williams' epic Star Wars soundtrack.
---
As the curator of the Lester Levy Sheet Music Collection, a phrase I hear often is "I didn't know sheet music could be used to study…"
Levy collected 30,000 songs over 50+ years not to perform, but to use as a lens for studying history. To make this easier, Levy organized his collection by subject, rather than title or composer. As a result, there are hundreds of unique subjects that can be used to filter the collection. So, I thought I'd take the opportunity to dive into some of the more fascinating, obscure, and strange subject headings in the collection. Every other week, I'll focus on a different subject — stay tuned for more deep dives! You can view the entire digitized collection here.