Music and text have been paired together since the earliest expressions of art—from ancient Egypt to the medieval morality plays of Hildegard von Bingen. When opera emerged, the composer and librettist (someone who writes the text for a musical work) would work hand in hand, like Mozart and his librettist Lorenzo da Ponte. Of course, there are also the modern duos—George and Ira Gershwin, or Rogers and Hammerstein. In these duos, the composer would typically create the music, and the librettist would assign words to it– this could prove difficult, as Ira Gershwin noted to Lester Levy below: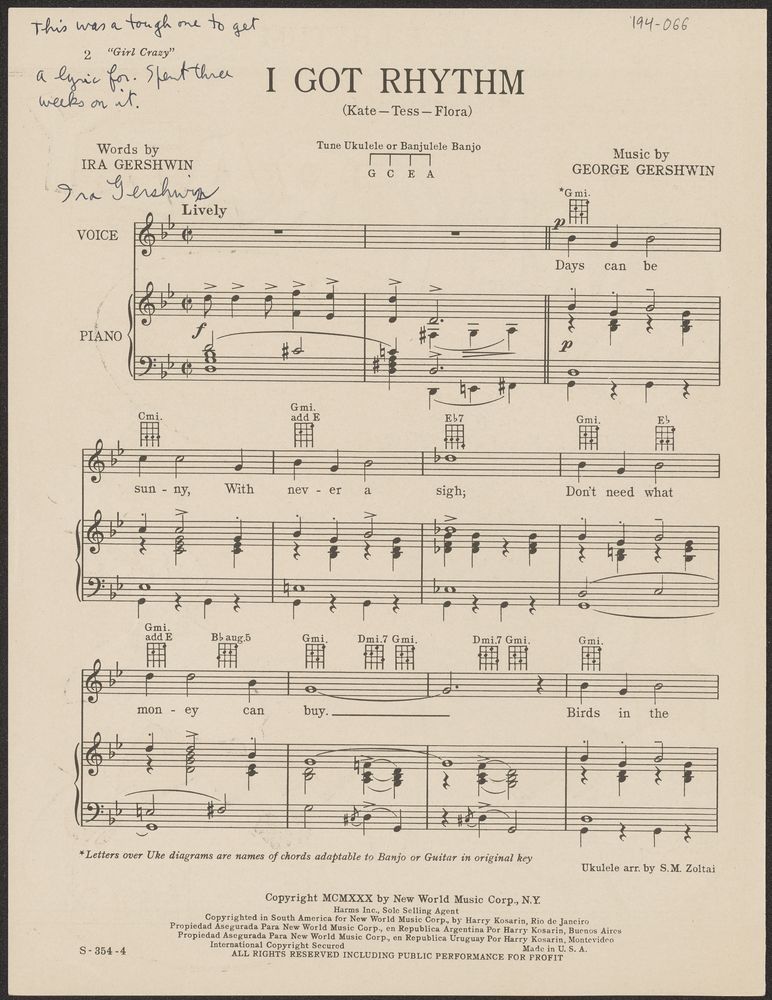 But sometimes, a composer would stumble upon a text that inspired them to write an accompanying melody. This was especially common with texts by William Shakespeare and Edgar Allan Poe.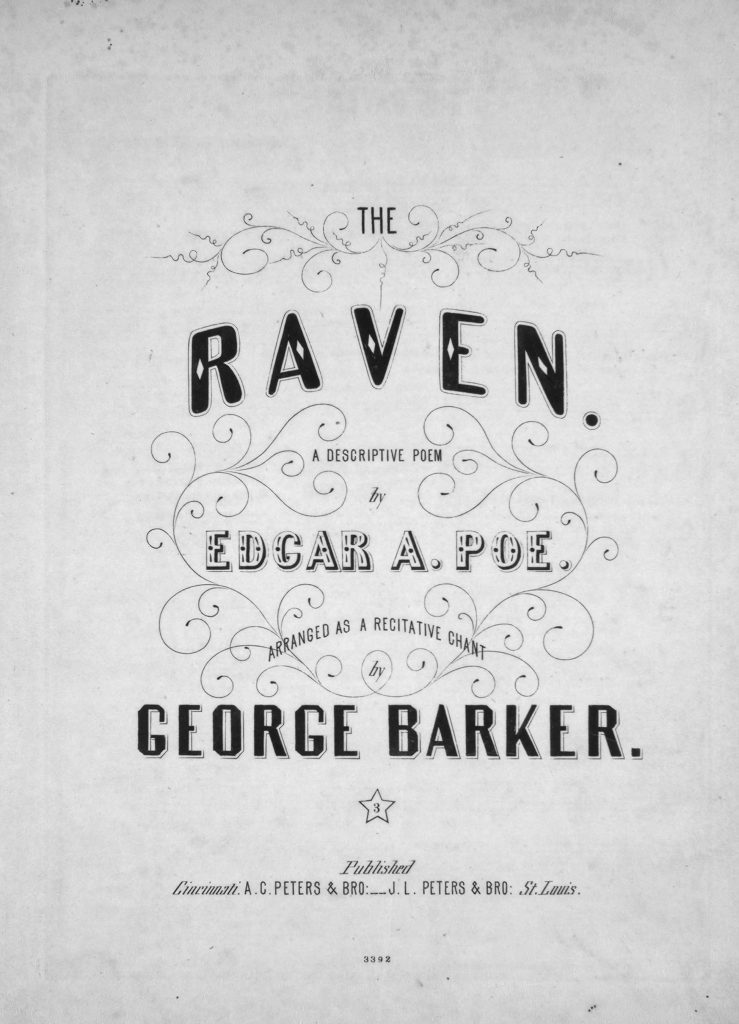 The Raven, A Descriptive Poem was composed by George Barker and published in Cincinnati, 1862. Rather than assigning one word per note as in most songs, Barker instead asks the singer to chant the words over a series of sustained chords in the piano. Interestingly, the composer chose G major for the song—a happy, pleasant key rather than a foreboding minor key that we might expect for The Raven. The chord progression is repeated identically, over and over again for each verse, which unfortunately may have the effect of limiting the emotional development of the poem. It does, however, make the song easily approachable for even the most amateur pianist. There are many more songs related to Edgar Allan Poe– we actually have an entire collection dedicated to them.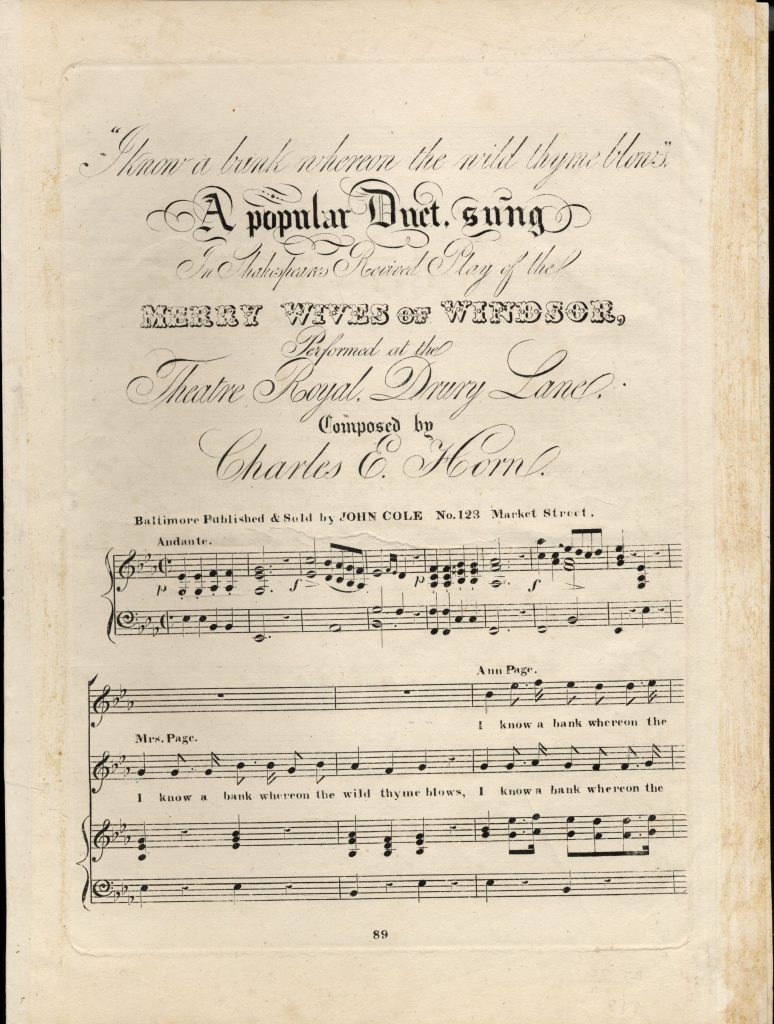 Shakespeare has inspired dozens (if not hundreds) of musical interpretations, including I Know a Bank Whereupon the Wild Thyme Blows. This undated version was composed by Charles Horn and published by John Cole, one of the most prolific sheet music publishers in Baltimore. The optimistic poem is also set to a happy major key—more appropriate for this poem. Although the melody is repetitive here, the composer creates contrast by embellishing it and moving it back and forth between the two voices. He also adds a cascading effect for the word "dances," making the word musically dance. A recording of the song can be found here.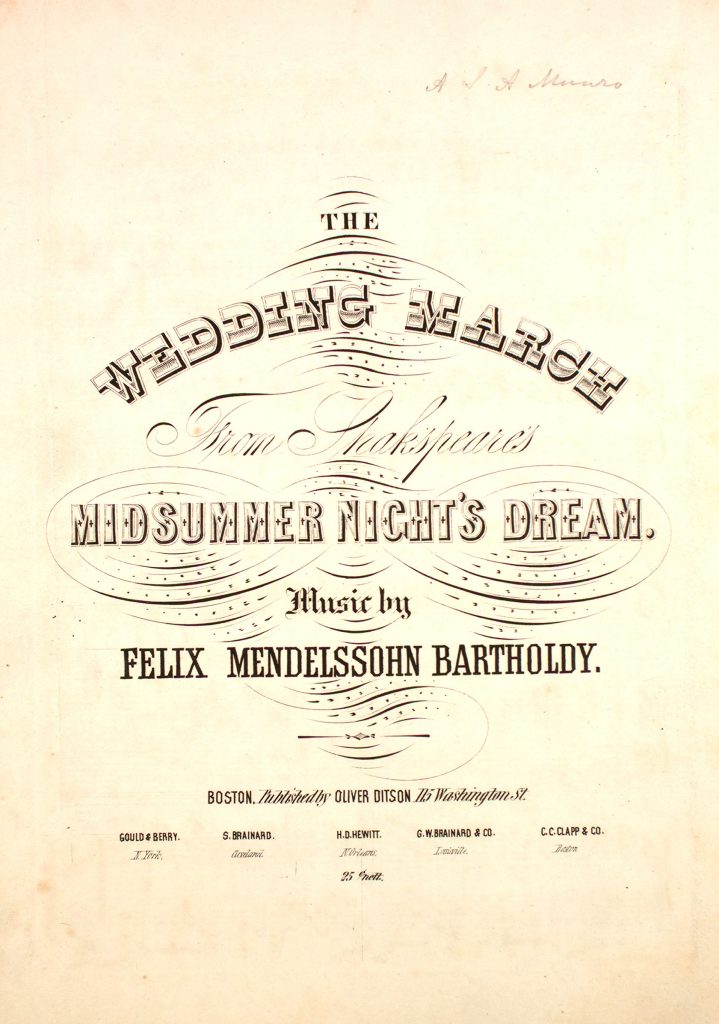 The Wedding March from Mendelssohn's Midsummer Night's Dream might be one of the most well-known works of classical music to a non-musical audience. It's heard at many weddings, often as the recessional played by an organ (here's a recording by the Berlin Philharmonic). Hearing it always brings me back to a college music theory class, in which the professor ranted, "Why would someone want to end their wedding with the Mendelssohn?! It starts with a half-diminished seventh chord in first inversion!" which is essentially music theory talk for a very dissonant chord. Personally, I think the Mendelssohn is lovely.
---
As the curator of the Lester Levy Sheet Music Collection, a phrase I hear often is "I didn't know sheet music could be used to study…"
Levy collected 30,000 songs over 50+ years not to perform, but to use as a lens for studying history. To make this easier, Levy organized his collection by subject, rather than title or composer. As a result, there are hundreds of unique subjects that can be used to filter the collection. So, I thought I'd take the opportunity to dive into some of the more fascinating, obscure, and strange subject headings in the collection. Every other week, I'll focus on a different subject — stay tuned for more deep dives! You can view the entire digitized collection here.