One of the greatest movies to come out of the 1990's was Hocus Pocus, with Bette Midler, Sarah Jessica Parker, and Kathy Najimy. From Binx the talking cat to the iconic "I Put A Spell on You" dance scene, the movie has become a cult classic—and although we're far from Halloween, I thought I'd spend the week searching the Levy Collection for witches, demons, and other creepy characters.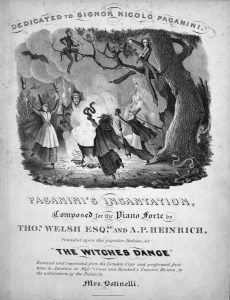 The 19th century saw the rise of two scarily virtuosic musicians—Niccolo Paganini on the violin and Franz Liszt on the piano. Both were tall and thin with abnormally long and flexible fingers, allowing them to physically reach places on their instruments that weren't possible for other musicians. Their unusual appearance combined with their unprecedented skill led some to think they had made pacts with the devil to obtain their talent.
"With his gaunt and gangling appearance and his demoniac temperament, Paganini almost single-handedly forged the romantic mystique of virtuosity as a superhuman, even diabolical endowment. He was Faust come to life—a role model for countless geniuses, charlatans, entertainers, and adolescents ever since his first appearances abroad." –Oxford Western Music
The sheet music cover above captures this supernatural vision of Paganini—here, he shares a tree branch with the devil himself (in fact, he's almost twice as big as the grimacing devil). In addition to the witches and creatures dancing below him, more are joining in from the horizon and foreground. The tree itself is even coming to life under the influence of his playing, with faces forming in the knots.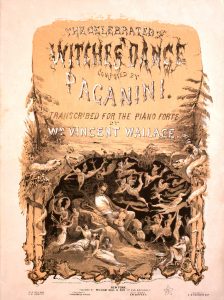 Another version of the song (above) shows a more humanized Paganini, albeit apparently in hell. He has collapsed through the ground and landed on a throne, surrounded by a horde of demons (a few of which can be seen playing the violin themselves). Both of these songs are transcriptions of Paganini's theme for the piano, and a glance through the sheet music reveals the skill required to perform them. Virtuosic songs like this are rather rare in the Levy collection, as most publishers wanted as many people as possible to buy their sheet music. In this version, you can even see the penciled markings of the performer as they painstakingly learned the difficult work.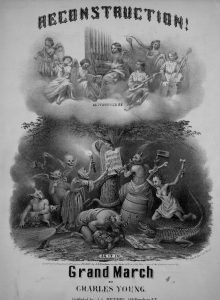 Another cover featuring witches is an interesting song from 1868: Reconstruction Grand March. Published during the country's recovery from the Civil War (1861-1865), the cover shows two musical scenes. On top, labeled "As It Should Be" we can see an ensemble of angels, playing instruments associated with heaven—organ, flute, trumpet, harp, cello, and lute. Below, a team of witches and demons (labeled "As It Is!") create a chaotic orchestra. A snake holds up the sheet music for a distressed conductor, while a long-legged alligator attempts to read the music below a figure playing the bones on a wooden barrel. Another demon simultaneously plays a trumpet and a percussive ratchet (my personal favorite character is the happy skull with bat wings).
There don't appear to be characteristics identifying any of the characters as Northern or Southern– the scene was lithographed by P.S. Duval & Sons in Philadelphia, and this version was published in New York. However, the copyright was entered in Louisiana, and a version at the University of South Carolina was published in New Orleans. This simultaneous publishing for audiences in the far North and far South implies the sentiment shared on both sides: reconstruction was not going smoothly. 1868 was also the year of a contentious presidential election—the first election after the Civil War that saw Ulysses S. Grant take the White House. A few other songs featuring witches can be found below: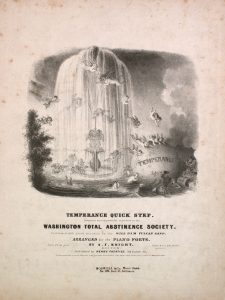 In the Temperance Quick Step, a slew of demons is literally rolled over by the virtuous ball of sobriety, pushed by an onslaught of angels. One can be seen bailing from a drum labeled "rum," being swept away by the tide of temperance.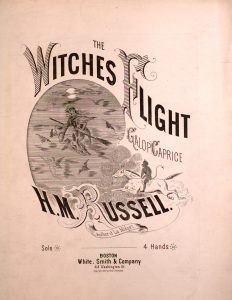 The Witches Flight depicts a more Hocus Pocus looking witch—robed and on a broomstick. She is pursued by the devil on horseback below, almost reminiscent of Schubert's Der Erlkönig—a song in which a man and his son on horseback are chased through the forest by a demon.
Of course, I'm missing some of the most beloved witches in all of performance history—those from the Wizard of Oz. The Levy collection contains most of the songs from various iterations of the production, not including those from Broadway's Wicked. So, to round out this week's deep dive, here's Idina Menzel and Kristen Chenowith performing Wicked at the 2004 Tony Awards.
---
As the curator of the Lester Levy Sheet Music Collection, a phrase I hear often is "I didn't know sheet music could be used to study…"
Levy collected 30,000 songs over 50+ years not to perform, but to use as a lens for studying history. To make this easier, Levy organized his collection by subject, rather than title or composer. As a result, there are hundreds of unique subjects that can be used to filter the collection. So, I thought I'd take the opportunity to dive into some of the more fascinating, obscure, and strange subject headings in the collection. Each week, I'll focus on a different subject — stay tuned for more deep dives! You can view the entire digitized collection here.