Before the Lester Levy Sheet Music Collection was donated to JHU in the 1970's, it was already a heavily consulted resource. Levy was regularly contacted by book publishers and magazines seeking to feature the colorful covers, so he decided to organize the collection by subject matter rather than title or composer. Need a song about baseball? Check. Post offices? Easy. Looking for all of the songs by Harold Arlen? That one could be tricky.
When the collection first started arriving, a thorough metadata effort was implemented to capture the contributors (composers, lyricists, arrangers, etc.), lyrics, engraving plate number, subjects, and other data. This time, multiple subject headings were assigned to each song—for example, "Somewhere Over the Rainbow" by Harold Arlen falls under celebrities, portraits, cartoons, witches, fairies, dreaming, literature, fictitious characters, and happiness.
Another effort was made to sort through the hundreds (if not thousands) of songs related to African American history. Many of these songs came from minstrel shows, a racist form of entertainment prominent throughout the 19th century that featured white performers in blackface makeup. Subject headings were created for these, including ethnic stereotypes, caricatures, or prejudice. Another subject heading—African American– was created for black composers like Scott Joplin and Ella Fitzgerald.
Unfortunately, this subject heading was applied to numerous songs about African Americans as well. As a result, clicking on the "African American" browse category on the front page of the website now results in the juxtaposition of Scott Joplin's genre-defining "Maple Leaf Rag" with minstrel and other racist songs, leaving users unable to view only the African American contributors.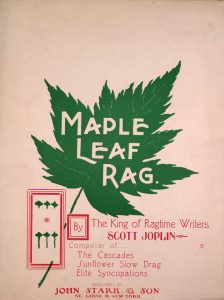 As Assistant Curator of the collection since January 2020, a priority for me has been to revise this metadata so users of the collection can easily find songs by black composers. A student research project was created to crawl through the composers, lyricists, and arrangers to identify these contributors. I also dug through Levy's fifteen boxes of correspondence & business dealings, eventually finding letters from Samuel Floyd. Floyd, former director of the Institute for Research in Black American Music for Fisk University, had reached out to Levy with a list of black composers he had identified. He was hoping Levy might be able to find all songs by these composers, but as the collection was only organized by subject, he was unable to provide in-depth assistance.
Using this list, combined with metadata from the Sam Carner Collection (another sheet music collection particularly strong in African American contributors) and continuing research by student Izzy Geada, I was able to compile a list of African American contributors so far identified in the collection. Now comes the tedious but necessary task of re-evaluating the metadata for the collection to fix the vague "African American" subject heading—part of a large-scale overhaul of the collection website underway.
Click here to view the list of African American composers so far identified in the Levy Collection. You can also download Professor Floyd's complete list of African American contributors, including those not found in the Levy Collection.