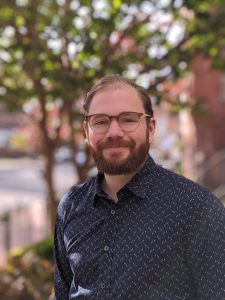 Please enjoy this interview with one of the Librarians of Johns Hopkins University Sheridan Libraries: Pete Lawson!
Edited by Morgan Moroney.
Who are you and what do you do? 
I'm Pete Lawson, and I am the relatively new Data and Visualization Librarian in Data Services. I help with discovering, accessing, and visualizing data.
Tell us a little about your background. 
I come to JHU by way of New Orleans, where I recently completed a Ph.D. in Bioinnovation, which is essentially Biomedical Engineering with an entrepreneurial component. My research focused on the use of computational topology to find prostate cancer in histology images. I was the de-facto research computing person in my lab, and ended up helping with a lot of research that wasn't my own. I realized what I love most about research is guiding others towards new computational tools and skills. The Tulane librarians were kind enough to let me lend my computational expertise to teach data literacy at the library, and I knew I wanted to do this for a living.
What is part of your job that people may not know about? 
I am the official ICPSR (Inter-university Consortium for Political and Social Research) representative at Johns Hopkins. I assist in finding, accessing, and analyzing ICPSR data. I also work to promote the effective use of quantitative ICPSR data at JHU.
What's the best part about being a librarian? 
Those Aha! moments when a particular concept clicks for someone I am teaching or consulting with, and they can pick up a tool or programming library and run with it.
What is your favorite hobby? 
Honestly, reading. I ironically (being a librarian) don't get enough time to do it, but nothing beats sitting on the porch with a book and a beer. The one thing that is somehow better than actually reading books, is hunting for them in used bookstores. The more curmudgeonly the shop owner the better.
You must eat the same thing every day for the rest of your life. What is it? 
Chinese takeout. I probably wouldn't live for very long though.
Beach or Mountains? Why? 
Mountains. I'm pale and burn easily. Also, I love mountain biking.
What show have you binge watched recently? 
Kim's Convenience. It's heartwarming and fun, definitely what I need during COVID.
What is a book you have read recently?
The Last Days of New Paris by China Miéville. It's an alternative history of Paris after the Nazi occupation where a surrealist cataclysm causes manifestations of surrealist art to come alive in the city. It's as strange as it sounds.
Will you please draw a picture of yourself to include with your profile?