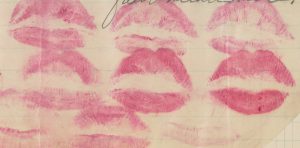 "Let your lover be dumpy or handsome or slim/ Young or old, you need care not a feather; /Just fill your ink-bottle up to the brim/ And write from these pages a letter."
Such wondrously poetic lines grace the cover of "The Mirror of Love," a 19th century chapbook that was meant to inspire valentine writers throughout the United Kingdom with sample verses either loving or wicked.  Wicked? Why, yes! While we may think of the 19th century as being the golden age of valentine greetings, with cards groaning under the weight of intricate lace work and overt sentimentality, there was also an equally popular tradition of sending disparaging messages to people who, well, annoy you.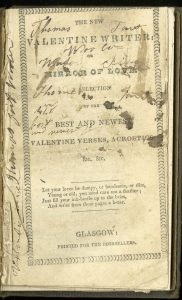 Called "mock" or "vinegar" or "poison" valentines, the greetings were an exceptionally popular and inexpensive way to either announce your absolute disdain for an individual or, in a way weird way, to try to make someone you actually care about readjust their lifestyle to be more in keeping with your community's moral standards. Alleged vices of both men and women were subjects of such vicious illustrations,  with everything from hypocrisy to vanity crudely criticized.  And to make it worse, these "vinegar valentines" were sent anonymously, surely breeding paranoia among the recipients. Just look at this one sent to poor Mildred! Not only does the message attempt to police her style but it also has the audacity to call her derriere a "weird display." All she wants to do is sashay around town in her fun and flirty skirt and oversized hat, but clearly some anonymous pearl-clutcher deemed it to be of Cupid's utmost importance to squash all things Mildred à la mode.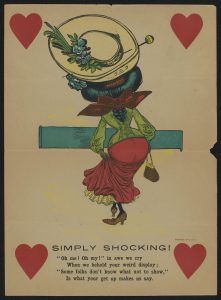 Valentine's Day certainly has a fascinating and at times sordid history, and we at the Sheridan Libraries have received special dispensation from Cupid to share it's secrets with you via our Hopkins at Home mini-course, Love at the Library! Starting Wednesday, February 10, this three-part course co-taught by Sam Bessen, Jennifer Jarvis, and yours truly, will have sessions on the history of Valentine's Day cards featuring exemplars from Special Collections, an in-depth look at Lester Levy's love of collecting popular sheet music, and DIY instructions on creating an Elizabethan method of sending secret messages, perfect for tokens of love!
Speaking of tokens of love, you will also get to meet "Edna," the paramour of a 1930s American sailor. His scrapbook documents their brief, but torrid affair, perhaps best represented in her lipstick kisses, as left on a letter she sent in 1935.  What are you waiting for? For the love of Edna, register for the course today!