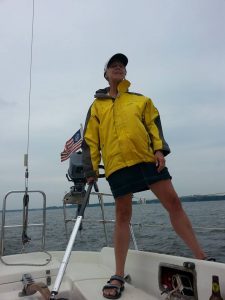 Please enjoy this interview with one of the Librarians of Johns Hopkins University Sheridan Libraries: Margaret Burri!
Who are you and what do you do?
I'm Margaret Burri, and I'm the Associate Director for Academic Liaison and Special Collections.  In regular language, that means I get to work with two amazing teams of librarians, curators, and archivists who support our faculty and students in their research, teaching, and learning.
Tell us a little about your background.
I was born on Staten Island, New York, or, as we say, "the forgotten borough."  And no, this is not where the Statue of Liberty is, nor is it part of Long Island.  I went to JHU as an undergraduate, and can't believe how lucky I am to be back here.  My life after JHU included graduate school at the University of Delaware (history and museum studies), stints as a curator at the Historical Society of Washington, D.C., and the Maryland Historical Society, and eight years of health policy work, proving that you can do almost anything with a humanities degree!
What is part of your job that people may not know about?
Working with donors, both people who give us rare books and personal papers, and others who want to endow funds to help us purchase collections to be used in research and teaching.
What's the best part about being a librarian?
You learn something new every day.
What is your favorite hobby?
I have to name two—sailing and cooking.
You have to eat the same thing every day for the rest of your life. What is it?
Fritos.
Beach or Mountains? Why?
Beach.  There's something deeply soothing about the sound of the water and the vastness of the horizon.
What show have you binge watched recently?
Only Murders in the Building.
Coke or Pepsi?
Pepsi.  My great-aunt owned stock in it.
What's on the ideal sandwich?
Hellman's mayonnaise.