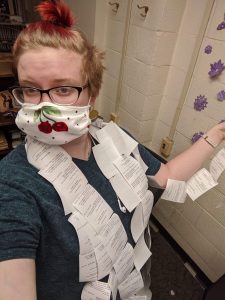 In June, the Johns Hopkins Libraries launched a pickup service for faculty, staff, and students to checkout library materials. If you've participated at MSEL, there's a good chance someone from our Access Services department took part in preparing your items for pickup. Want to meet the team? Take a look at what one Library Specialist, Lily Kowalczyk, has to say below.
What do you do at the library?
Everyone in circulation is kind of a jack of all trades, but I typically focus on billing and student accounts. Hopefully, I'll be able to return to making programs and displays in the future!
What are some of the most popular titles you see patrons requesting?
There have been a lot of Classics coming through our book drop, looks like patrons are taking the time to read some great works!
Strangest thing you've ever found in a library book drop?
It wasn't at this library, but in the past I've gotten trash (guess someone thought it was a garbage can?), and a previous coworker of mine found a dead fish tucked inside a book!
Favorite thing about Baltimore?
I love how "small" the city can be. It seems like I'm always meeting someone who knows my relatives or friends. We're not as far apart as we think!
What are you looking forward to most this fall?
I can't wait to snuggle up with hot apple cider and a couple of scary movies!