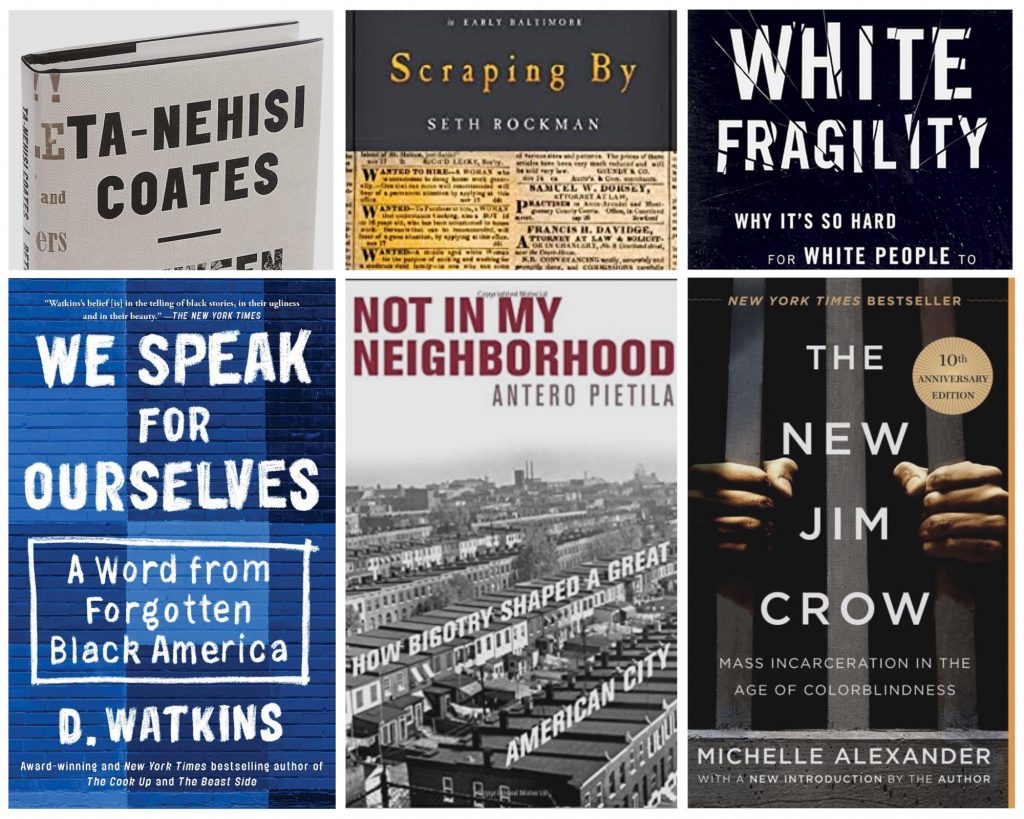 Like many throughout the country, staffers of the Sheridan Libraries and University Museums are turning to books and other media in an effort to better understand the ways in which white supremacy and anti-Blackness have shaped American life—and the ways in which these destructive forces can be dismantled and counteracted.
As we head into the long Juneteenth weekend and the conclusion of #BlackoutBestsellerList week, we asked staffers to share the media they are consuming in order to understand America's long and tragic history of racial oppression and injustice. The responses demonstrate the wealth of resources available for those curious and motivated enough to meet the moment. These resources range from photographic collections housed in the Sheridan Libraries' Department of Special Collections to memoirs, podcasts, and online databases maintained by other cultural institutions. Many–though certainly not all–of the recommendations are by Baltimore writers or about Baltimore's racial history. This is a natural outgrowth of the university's location in Baltimore and its environs,
If you are a member of the Hopkins community, you can search our libraries for the recommended materials here. Many are available as e-books or in other digital formats. If available only in hard copy, you can order online and pick up materials at the Milton S. Eisenhower Library on Mondays, Wednesdays, and Fridays from 9 a.m.-2 p.m. starting Monday, June 29. More information can be found here.
If you are not a member of the Hopkins community, you can temporarily access a number of free books and articles on the history of structural racism in the United States and anti-racist reform through Project MUSE. For other materials, we encourage you to patronize your local library or Black-owned bookstore.
Scraping By: Wage Labor, Slavery, and Survival in Early Baltimore by Seth Rockman (2009)
Not in my Neighborhood: How Bigotry Shaped a Great American City by Antero Pietila: (2010)
Since arriving at Evergreen as director in March 2019, I have been endeavoring to better understand the labor history of the house, searching for sources about the people who tended the estate's gardens and horses and cooked and cleaned there. Information comes in small shards that when put together start to assemble a picture of the racialized nature of work at Evergreen. Over the course of the house's history, census materials point to the employment of Irish American men and women as well as African American men and women. Architectural evidence shows that during the early 1900s, African American workers took their meals in a dining space separate from white workers at the house. It is imperative that we start to more effectively understand how race shaped work and life at Evergreen. What does the history of race at Evergreen tell us about the larger historical context of the city where the house is located? To help answer these questions, I am digging in to these two books. –Lori Finkelstein, Philip Franklin Wagley Director & Curator, Evergreen Museum & Library
We Speak For Ourselves by D Watkins (2020)

Written by Baltimorean D. Watkins, this text illuminates and explicates many of the issues America is confronting on a more personal level. I'm not sure if Watkins would describe himself as an activist, but he uses his writing to challenge readers to see and value other peoples' experiences, and he does so by amplifying Black voices. He asks us to really stop and contemplate what actions are needed if we are truly committed to social change. He writes with honesty and integrity, wit and humor, and most importantly, as author Ibram X. Kendi has said, he "dares us to listen." – Allison Seyler, program manager, Hopkins Retrospective
Seeing White podcast hosted by John Biewin
This 14-part podcast from Scene on Radio examines the construction of systemic racism in the United States by exploring the different facets of "whiteness" and how it operates. –Sam Bessen, assistant curator of the Lester S. Levy Sheet Music Collection
Black Craftspeople Digital Archive
Truths of the Trade: Slavery and the Winterthur Collection,  Winterthur Museum
Homewood Museum's excellently preserved building and collection offer a rare snapshot of Baltimore in the early 19th century. Our story cannot be responsibly told without prioritizing the lives of the enslaved individuals and families who lived and labored at the country estate. Online resources such as the Legacy of Slavery in Maryland project, The Slave Dwelling Project, the Black Craftspeople Digital Archive, and Winterthur Museum's Truths of the Trade exhibition have all provided significant resources and examples that challenge Homewood staff to re-examine and reinterpret our collection to tell the whole history of the house." –Michelle Fitzgerald, assistant curator, Homewood Museum
The New Jim Crow: Mass Incarceration in the Age of Colorblindness by Michelle Alexander (2010)
Between the World and Me by Ta-Nehisi Coates (2015)
Baltimore Lives by John Clark Mayden (2019)
A little over five years ago, I posted on this site a list of resources to help us reflect on and learn from the death of Freddie Gray while in police custody and the uprising that followed. It's not a surprise but it is a tragedy that we are here again. That 2015 list included Michelle Alexander's New Jim Crow, and it seems appropriate to reread that book in this moment, or read it for the first time. It did not include Ta-Nehisi Coates's Between the World and Me because it had not been published yet, but it's a work I now cherish for providing me as a white woman with insight into the way it feels to grow up as a target of the existential violence of racism. Is it finally time to act, as a city and a nation, against the white supremacy that is built into the criminal justice system?
The gift of Coates's book—of seeing the world through the eyes of people who have historically been looked at with hatred and condescension—is also present in the two photograph collections I am including here. The African American Real Photo Postcard Collection consists of postcards made from amateur photographs, many of them personal photographs that Black Americans created in defiance of racist representations. (The collection also contains a few racist postcards made for commercial purposes.) Baltimore Lives is a beautiful collection of black-and-white photographs by local photographer John Clark Mayden; you can also see some digitized examples of his work. –Gabrielle Dean, William Kurrelmeyer Curator of Rare Books and Manuscripts, Sheridan Libraries
Johns Hopkins University Web Archives

As I wrote in a blog post last week, the protests and unrest sparked by the tragic death of George Floyd have caused me, like many Baltimore citizens and members of the Hopkins community, to reflect on the Uprising in April 2015 inspired by the death of Freddie Gray.
My attempt to make sense of what's happening now and what happened then led me to Johns Hopkins University's web archives, which we in the Ferdinand Hamburger University Archives have preserved since 2013.
Web content is ephemeral by nature, and web sites are complex digital objects, making the snapshots we've captured imperfect records of history, augmenting the administrative records, photographs, oral histories, and other materials we collect to document Johns Hopkins University life. Nonetheless, web archives can serve as a potent reminder of the myriad ways people and organizations responded to major events at the time.
I encourage you to search our web archives on your own, but a couple of archived pages on this topic jump out at me. First, my research reminded me of a project called "Hearing Their Voices," launched in Summer 2015 as Baltimore was still reeling from the Uprising. Here is an archived story from 2016 from the University's 21st Century Cities Initiative that interviews Juliana Wittman, a student who participated in the project, which was funded by 21st Century Cities. And linked here is the final report, released in 2017, which features in-depth interviews with Baltimore youth who participated in and were impacted by the events surrounding Freddie Gray's death. –Jordon Steele, Hodson Curator of the University Archives
OTHER RECOMMENDATIONS
Books
Articles, Blogs, and Misc.
Podcasts