The protests and unrest sparked by the tragic death of George Floyd have caused me, like many Baltimore citizens and members of the Hopkins community, to reflect on the Uprising in April 2015 inspired by the death of Freddie Gray. It's a moment that is seared into the memory of every Baltimorean who lived in Charm City at the time.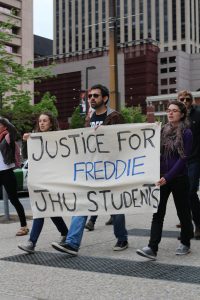 My attempt to make sense of what's happening now and what happened then led me to Johns Hopkins University's web archives, which we in the Ferdinand Hamburger University Archives have preserved since 2013.
Web content is ephemeral by nature, and web sites are complex digital objects, making the snapshots we've captured imperfect records of history, augmenting the administrative records, photographs, oral histories, and other materials we collect to document Johns Hopkins University life. Nonetheless, web archives can serve as a potent reminder of the myriad ways people and organizations responded to major events at the time.
I encourage you to search our web archives on your own, but a couple of archived pages on this topic jump out at me. First, my research reminded me of a project called "Hearing Their Voices," launched in Summer 2015 as Baltimore was still reeling from the Uprising. Here is an archived story from 2016 from the University's 21st Century Cities Initiative that interviews Juliana Wittman, a student who participated in the project, which was funded by 21st Century Cities. And linked here is the final report, released in 2017, which features in-depth interviews with Baltimore youth who participated in and were impacted by the events surrounding Freddie Gray's death.
Pointing to the more ephemeral nature of web content, I also found interesting April 2015 posts displayed in an archived copy of "Humans of Hopkins," which ceased publication in 2017. Inspired by the popular site "Humans of New York," Humans of Hopkins was an attempt to provide impressions of the lives of members of the Hopkins community. Click here and scroll down to the April 2015 posts (the poor display gives you a window into the complexities of preserving a snapshot of web content).
Wishing you and yours the best in this time of uncertainty and unrest.