For today's post, I would like to shed some light on Charlotte Doremus Pierson Garrett Bellairs (1872-1939) who was briefly married to Horatio Garrett, one of the three Garrett sons who grew up at Evergreen in the 1870s and 1880s.
A fair amount is known about Horatio Garrett, middle child of Alice Whitridge Garrett (1851-1920) and T. Harrison Garrett (1849-1888). Like his older brother John Work Garrett, who willed Evergreen to JHU in 1941, and his younger brother, the Olympian Robert Garrett, Horatio lived a privileged life at the stately Evergreen estate where he was tutored at home until he attended Princeton University with his brothers.
Horatio became engaged to Charlotte, a native of New Jersey, in 1895. During their engagement, Alice Garrett undertook the construction of "Evergreen Junior," located on the southeastern section of Evergreen's property, as a future home for the newlyweds. The house was not yet complete when Horatio died in 1896 of cancer at the young age of 23 and Charlotte never lived at Evergreen Junior. Instead, according to the U.S. Census, Charlotte was still living at Evergreen in 1900, four years after her husband's death. Today, Evergreen Junior is part of the Loyola University campus, having been sold by Alice to the school in the 1921. (Stayed tuned for a future post on Evergreen Jr.)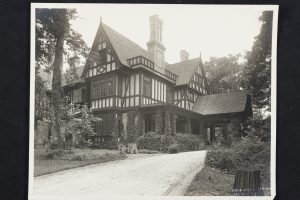 It is very tempting to speculate about what life was like for the two Garrett widows under one roof at Evergreen. (Alice's own husband had died in a boating accident in 1888.) Were the women a great comfort to each other during a difficult time? Or, was Charlotte biding her time in Baltimore until she had the resources to move on with her life? I have yet to locate any evidence that sheds light on these question or suggests alternative interpretations.
What we do know is that Charlotte did eventually leave Baltimore. Documents found at Ancestry.com show that in 1907 she applied for a passport to travel from Germany to Russia. Her application bears the signature of her brother-in-law, John Work Garrett, then posted as a diplomat at the U.S. Embassy in Berlin. Then in 1911, at the age of 39, Charlotte married Carlyon Wilfroy Bellairs (1871-1955).
Bellairs had himself led a quite remarkable life. He served as British naval commander and later was a Minister of Parliament where he was known as a champion of women's suffrage. In the 1930s, the couple retired to Barbados where Charlotte died in 1939. In 1954, Bellairs willed his Caribbean property to McGill University as a memorial to his late wife with the intention that it serve as an institute for research on the tropics. Today, McGill's Bellairs Research Institute continues to serve researchers in the field of marine and tropical environments.
Personal sidebar: I lived in Madison, New Jersey for several years, which is very close to Chatham, New Jersey where Charlotte was born and I am a graduate of McGill (B.A. '93), though I had never heard of the Bellairs Research Institute until I started to explore the life of Charlotte!