Last week, our #JHUMAKESTOYS challenge threatened to open the gates to the nearest hellmouth by potentially unleashing an army of handmade dolls ready to the haunt the homes of unsuspecting Blue Jays.  Fortunately, this humble toy-maker can attest that the crisis was averted.  The doll I created was just one sandwich away from reviving the Sad Keanu meme of yore.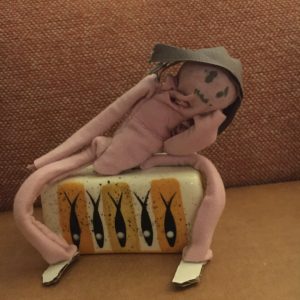 Wait, what? A toy-making challenge?  Sad Keanu? Just how old are you in Internet years? Anyway . . . . Let's recap! Special Collections recently acquired a charming set of instructional toy-maker cards created by the illustrator Kate Angus. The cards most likely date to the early 1930s and were meant to provide children with afternoons of fun by crafting toys from common and inexpensive household objects. Since we all could use a bit of whimsy in our lives right now, we would like to invite you to participate in our #JHUMakesToys Challenge!
Interested in becoming a vintage toy-maker? Here's the scoop:
Follow @jhuspecialcollections to see the challenges as soon as they are released.
Tag @jhuspecialcollections so we can see your photo and add #JHUMakesToys to your caption.
Challenges will be announced weekly on Fridays from April 3 through May 8.
Each week shall be a new chance for internet fame and glory!
Please note that we may share your wonderful creations on Johns Hopkins social media channels.
Our third challenge will come in handy if you need a speedy escape from your handmade doll! We are going to make a snazzy matchbox racing car. However, the possibility of terror remains. It turns out that the head of the matchstick doll is made out of an acorn, and acorns are also to be used for the head lights of the car. What if the head lights transform into doll heads while you are sleeping?  Proceed with caution and definitely utilize our Ask a Librarian services for the best resources on how to get a grip on possessed toys.