Last week, we launched a fun Instagram challenge called #JHUMakesToys. Our very first challenge was to make a Viking ship! Here is my interpretation. Behold the mighty and fierce Sea Hund, with the brave Andy Warhol and his trusty can of soup at its helm!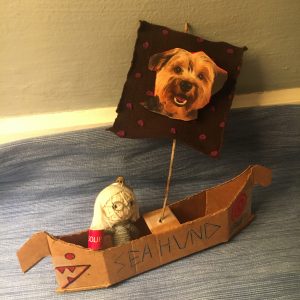 Wait, what? A toy-making challenge? Let's recap! Special Collections recently acquired a charming set of instructional toymaker cards created by the illustrator Kate Angus. The cards most likely date to the early 1930s and were meant to provide children with afternoons of fun by making toys from common and inexpensive household objects.  Since we all could use a bit of whimsy in our lives right now, we would like to invite you to participate in our #JHUMakesToys Challenge!
Interested in becoming a vintage toymaker? Here's the scoop:
Follow @jhuspecialcollections to see the challenges as soon as they are released.
Tag @jhuspecialcollections  so we can see your photo and add #JHUMakesToys to your caption.
Challenges will be announced weekly on Fridays from April 3 through May 8.
Each week shall be a new chance for internet fame and glory!
Please note that we may share your wonderful creations on Johns Hopkins social media channels.
This week's challenge may prove a hit with horror movie fans! Why? Because we will be making a match-stick doll, which perhaps was at one point in time considered adorable, but today veers on the creepy. The doll's head will be made out of an acorn, and its feet lovingly crafted out of cardboard.  It will clearly become a vessel for many a household haunting. We look forward to your interpretations.