The past year was one of great activity and change at the Johns Hopkins University Museums. Much of that energy was derived from new staff members and new positions for some seasoned veterans. Keep reading to meet all the new faces helping to share the history of Homewood and Evergreen with ever larger and more diverse audiences.
JENNIE CHAPLIN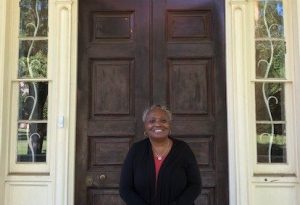 Jennie Chaplin, Ph.D., is a Gullah Geechee culture and cultural arts advocate, public historian, writer, independent researcher, and a museum scholar. She is a 2022-2024 Curatorial Fellow for Slavery and Justice working with the Johns Hopkins University Museums and Inheritance Baltimore on projects funded by a Just Futures grant from the Mellon Foundation.
During her two-year appointment, she will research and share the history of the enslaved and free Black workers who labored and resided in the vicinity of Homewood and Evergreen during the 18th, 19th, and early 20th centuries. She is especially interested in the historically black communities that surrounded the Homewood/Charles Street area, including Hoes Heights, Cross Keys, and Bare Hills/Scotts. She has began by collecting oral histories from the descendants of Grandison Hoe, a freed slave in Antebellum Baltimore who owned and operated a farm on the location of the present-day Hoes Heights neighborhood.
A native of Charleston, South Carolina, Jennie is dedicated to the preservation and accurate interpretation of Gullah Geechee (of which she is a descendant) and African American culture and history. She earned her Ph.D. in American Studies from the University of Maryland, specializing in historic preservation, material culture, and museum studies. Her dissertation was on the historic Penn Center in St. Helena, SC, an epicenter of the Gullah Geechee culture. She received her Master of Arts in African American Literature from Howard University, where she situated James Baldwin's role and his fiction in the canon of the Civil Rights Movement.
JEANNETTE MARXEN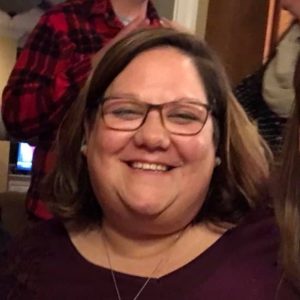 In July, Jeannette Marxen was promoted to the newly created position of Programs & Interpretation Manager at Johns Hopkins University Museums where she oversees public programs for both Homewood and Evergreen, contributes to the development and execution of museum tour content and gallery interpretation, and supervises the museums' visitor services staff. She first joined the JHU Museums in the August 2020 as the Museum Coordinator for Evergreen Museum & Library.
Her first foray into the museum field was volunteering at the Edgar Allan Poe House & Museum during high school. From there, she went on to earn a bachelor's degree in history from University of Maryland Baltimore County. She received a master's in heritage management from Newcastle University in the United Kingdom. During her program she gained experience in the field with varied organizations like Hadrian's Wall Community Champions, Northumberland National Park Authority, and Amgueddfa Cymru/Museum Wales. Before coming to Johns Hopkins, she held several positions at Historic Annapolis.
LAUREN DEGENER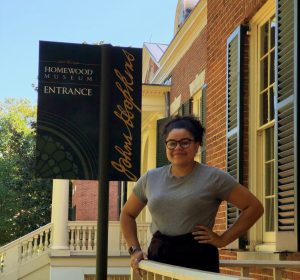 Since May, Lauren Degener (she/her/hers) has been the House Manager at Homewood Museum, where, Tuesday through Friday, she manages operations, oversees visitor's services, and runs the Gift Shop.
Lauren started at Hopkins just days after finishing her final semester at Bowling Green State University (BGSU), where she received her Bachelor of Arts in English and minored in Nonprofit Administration. During her undergraduate studies, she focused on African American literature and diaspora in the United States, completing conference papers for the Youngstown University History and the Humanities conference, and a grant-funded project through her university's Center for Undergraduate Research (CURS). While constructing her project for CURS, Lauren also interned with the Institute for the Study of Culture and Society, during which she ran their social media, researched and wrote podcast scripts, and aided in outreach to the community around BGSU.
She is currently a graduate student through Bowling Green State University's e-campus, studying Instructional Technology and Design. In what little free time she has, Lauren writes and self-publishes Young Adult fiction and runs a book podcast with one of her former roommates. On the weekends, she works craft shows for her family's small business, and spends time with her nephews and niece.
ROSINA SAQIB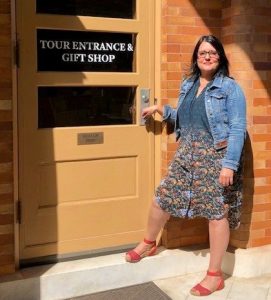 Since May, Rosina (Rosie) Saqib has been the House Manager at Evergreen Museum & Library, where, Tuesday through Friday, she manages operations, oversees visitor's services, and runs the Gift Shop.
Rosie began her career designing elaborate windows and store displays for Anthropologie. A desire to develop her own artistic practice led her to Penland School of Craft where she was awarded a fellowship to study craft in the mountains of North Carolina. At Penland, Rosie developed a deep appreciation for traditional textile processes and materials. Her love of textiles has taken her to Guatemala and Mexico, where she has traveled and worked with indigenous artisans. She recently completed an artist residency at Blue Light Junction, an alternative color lab and natural dye garden in Baltimore. She is currently working on a line of home textiles incorporating botanical color and traditional quilting.
HAYLEY FRANK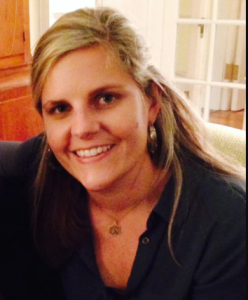 Hayley Frank started in October as the Director of Private Events for the Entrepreneurial Library Program, overseeing the recently resumed private events rental program at Evergreen Museum & Library and the George Peabody Library.
Hayley is returning to Hopkins from which she graduated in 2011 with a Bachelor of Arts in Art History and a minor in the Program in Museums and Society. After graduation, she worked with the Homewood Museum curator on an archival project that transcribed Carroll family letters into a database. From there, she spent time in Washington, D.C., at the National Gallery of Art, then in Philadelphia, working for a nonprofit. She returned to Baltimore in 2016 as the Manager of Special Events at the Walters Art Museum for six years before assuming her current role.
A native of Baltimore, Hayley lives in Towson with her husband, Andrew, and their 1-year-old daughter Louise.
CHELSEA RALLO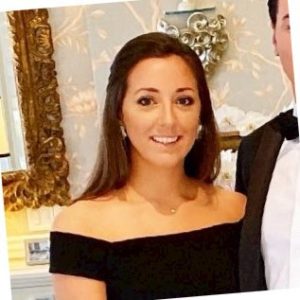 Chelsea started as the Marketing and Program Coordinator for the Entrepreneurial Library Program's Private Events Office in June. She promotes the George Peabody Library and Evergreen Museum & Library as event venues and communicates directly with potential clients in the initial booking stages and contract process. Prior to joining the Libraries and Museums, she was a Project Manager in the marketing department at Towson University. A native of upstate New York, Chelsea studied humanities and dance at Washington College in Chestertown (class of 2014). She currently lives in Baltimore with her husband, Dominic, and their daughter.