The Winston Tabb Special Collections Research Center is pleased to announce its inaugural 2022/23 Public Humanities Fellows: Hoesy Corona and Nicoletta Darita de la Brown.  
Fellows are non-institutionally affiliated organizers, artists, cultural workers, and knowledge-creators who mobilize and creatively interpret materials from the Sheridan Libraries' rare book, manuscript, and archival collections over the course of a yearlong residency.
Nicoletta Darita de la Brown is an award-winning interdisciplinary artist and c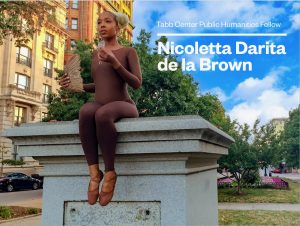 hamána (shaman) who comes from a long line of healers. She is Black Latinx; proud to be a first-generation Panamanian born in the United States. Her performances have been staged at The Phillips Collection, Washington DC; The Smithsonian, Washington DC; and The Walters Art Museum, Baltimore MD. Her video and installations have been presented at The Tribeca Film Festival, New York, NY; the Baltimore Museum of Art, Baltimore MD; IA&A at Hillyer Gallery, Washington DC; and Cardinal Gallery, Baltimore MD.
As a Public Humanities Fellow, de la Brown will explore and respond to Special Collections materials that center black women, through video artwork, self-portrait photography, and site-specific performance art. During her archival research she will ask a variety of questions: "How many black women are living in the archives? How many black women are hidden in plain sight? What happens to us when we are invisible? How can I feel seen as a black woman?" This project celebrates back women out loud, on purpose, and unapologetically.
Visit Nicoletta's personal website and Instagram.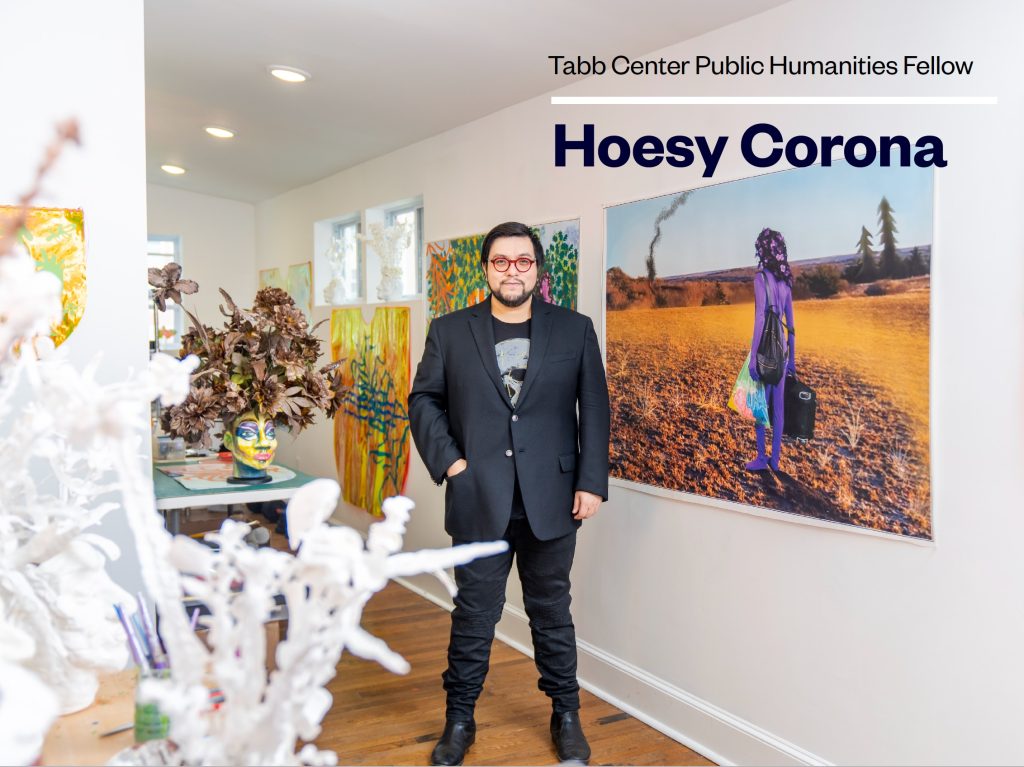 Hoesy Corona is a Queer Latinx artist creating uncategorized and multidisciplinary art spanning installation, performance, and podcasting. He is the founding co-director of Labbodies (2014-2020), a performance art laboratory focused on creating opportunities for under-recognized queer and women artists of color, and is founding co-host of La Valentina Podcast. Corona has been a Tulsa Artist Fellow in Tulsa, OK; a Restoring Hope, Restoring Trust Artist in Residence at Wabash College in Crawfordsville, IN; and a Halcyon Arts Lab Fellow in Washington, DC. They are the recipient of numerous honors and awards including the Andy Warhol Foundation's Grit Fund Grant. Their latest installation, Terrestrial Caravan (2022), is on view at the Academy Art Museum in Easton, MD through Fall 2023.
As a Public Humanities Fellow, Corona will conduct oral histories with Latinx artists and thinkers in the DMV area and archive them at the Sheridan Libraries, establishing a collection that reflects Baltimore's Latinx presence at a pivotal moment of its growth. Additionally, Corona will develop a culminating exhibition that mobilizes and remixes queer and Latinx texts from Special Collections.
Visit Hoesy's personal website and Instagram.
Tabb Center director Joseph Plaster launched the Public Humanities Fellows program in 2022; a selection committee reviewed applications and chose the inaugural fellows. Fellows will contribute to the Tabb Center's mission by creatively reinterpreting and adding to the Sheridan Libraries' collections, which span 5,000 years of unique objects and texts.