We have heard your cries! Your pleas have not fallen upon deaf ears!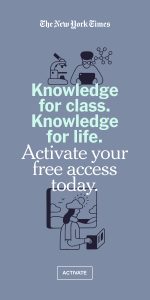 We are proud to announce that all students, faculty, and staff of Johns Hopkins University are now eligible for free online access to the New York Times through the Sheridan Libraries. The process is simple. All you need to do is follow this link to the New York Times log in site, then follow the instructions to register a new account.
Once registered, you will be prompted to set up your account by selecting which (if any) daily emails you might enjoy and, if you choose, downloading the app. This will enable you to take the journalism of the Times – complete with articles, archives, videos, maps, and podcasts – with you on the go wherever you may find yourself.
Sadly, we will not have access to the recipes of the Cooking section, the Crossword puzzle, or to Kindle Editions. That being said, never fear! Along with your new NYT account you will have access to the New York Times – InEducation site and The Learning Network. The InEducation site helps you stay abreast of developments in your field by organizing NYT content by areas of study. The Learning Network, meanwhile, provides access to activities for students (including trivia quizzes for those of us offended by the omission of the crossword), resources for teachers, and daily content that includes student opinion, contests, vocabulary, professional development, and more.
So, what are you waiting for?! Go log on and start digging into the NYT's 150 years of top-notch journalism.