We are excited to announce the opening of a new exhibition at the George Peabody Library: Grace Notes in American History– 200 Years of Songs from the Lester S Levy Sheet Music Collection.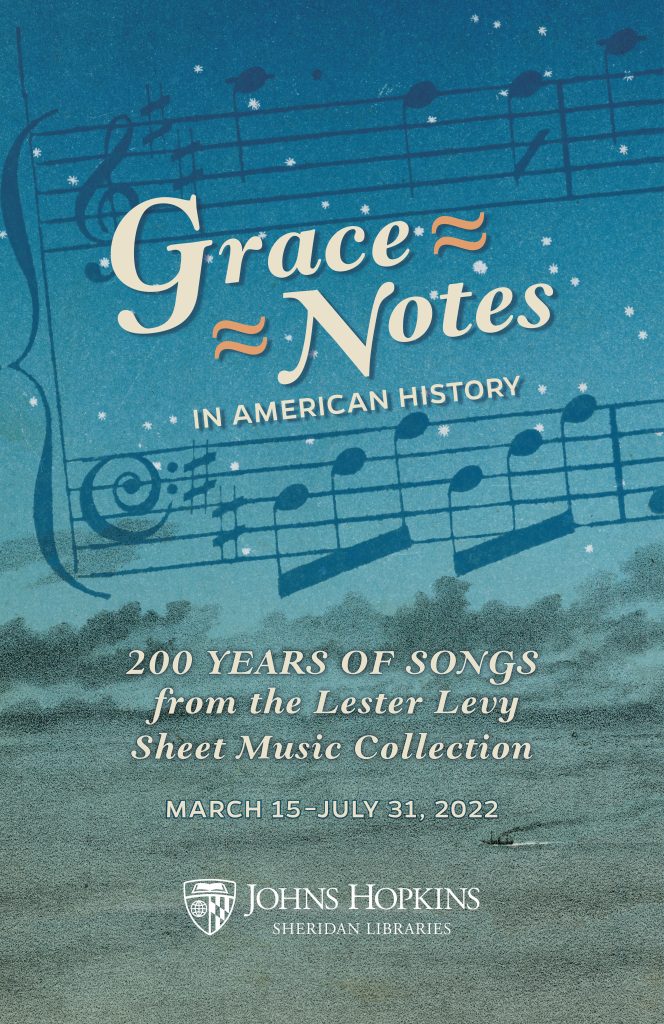 The exhibit is a celebration of the Sheridan Libraries' rich collections of historic sheet music, exploring the many ways this medium has functioned throughout US history– social media, advertising, propaganda, and of course– entertainment.
Together the works on view provide unique insights into the evolution of American popular culture, from the Great American Song Book and Harlem Renaissance, to Baltimore music publishers and national movements for suffrage, emancipation, and labor. Highlights include a manuscript claiming to be penned by Edgar Allan Poe, songs autographed by Ira Gershwin and Amelia Earhart, sheet music from Baltimore's First Lady of Jazz, Ethel Ennis, and a collection of songs lithographed by Hoen & Co, a Baltimore printing company whose building still stands in Harbor East. Also on view are correspondence from the Lester Levy papers and objects related to sheet music production.
We hope you'll join us for a virtual opening celebration on March 22, hosted by Hopkins at Home.