Please enjoy this blog post written by Sayeed Choudhury.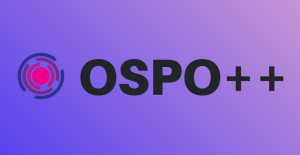 In early November, I had the pleasure of representing Johns Hopkins University (JHU) at two prominent European open source conferences in Paris, France: OSPO++ Europe: When Institutions Cooperate and the Open Source Experience. These conferences brought together open source leaders including those from the European Commission and the United Nations, along with many others. JHU's Open Source Programs Office (OSPO) played an integral role in demonstrating the importance of open data and open source initiatives.
At OSPO++ Europe, President Ronald J. Daniels gave opening remarks via video conference. His words touched on the potential impact of open source to strengthen fact-based institutions and even democracy. He also talked about JHU's continued commitment to excellence through initiatives such as the Covid-19 map and the OSPO's partnership with the City of Paris and the St. Francis Neighborhood Center (SFNC).
There were many wonderful presentations on the benefits institutions are experiencing by adopting open source policies. If you are interested in learning more, I would encourage you to visit the OSPO++ webpage to view the conference. The full JHU, City of Paris, and SFNC case study is there as well, highlights of which I am sharing below.
The OSPO's work with the City of Paris and SFNC is very important. It shows how international cooperation can be achieved through open source licensing while providing JHU students with practical software engineering experience to address needs in the Baltimore community. Christi Green, Executive Director of SFNC, and Torbin Green, Director of Program Ops for SFNC, explained how Lutece, the digital platform adopted from the City of Paris, is making their digital strategy a reality by creating critical connections, building capacity, and streamlining SFNC's services. At the end of the case study, we provided a demo of what Lutece will look like for SFNC.
Sheridan Libraries colleagues, Jim Martino, Senior Software Engineer, and Mark Patton, Senior Software Engineer, shared their experiences working with JHU students and addressing practical software engineering challenges. Martino discussed the history of this project and how our student software developer, Keilani Caruso was instrumental in making substantive contributions to the adoption of Lutece. Patton spoke about the software engineering process and discussed the process of making Lutece functional for SNFC.
I must mention that this work would not have been possible without the tireless work from JHU alumnus, Jacob Green, founder of MossLabs, Jacob Green. Jacob has worked countless hours to help create OSPO++ and bring JHU, the City of Paris, and SNFC together.
The next day I participated on a panel with Dr. Lauren Gardner at the Open Source Experience. Dr. Gardner addressed the challenges of building an online, open data resource in real time and the many lessons learned through this process. She specifically sited the attributes that made this successful, including JHU's support, and I would encourage you to watch her full presentation.
Both of these conferences were excellent opportunities to showcase the incredible work JHU is doing in the open source field. I have been incredibly honored to work with such a dedicated and collaborative team and I am looking forward to continuing my work in open source and the future collaborations it will bring.