News about a new coronavirus moves quickly around the world and so does the science. Have you thought about how or why that science can travel so expeditiously around the globe?
Many scientists – especially those who work in public health and environmental sciences – are keen to share their research efforts quickly and openly – to be sure science and human knowledge move forward quickly. In a public health crisis like this, this kind of speed is required.
Chinese researchers who sequenced the virus immediately placed it in GenBank, an open repository for genetic sequence information. That allowed researchers from around the world to start their work just a few hours later. The results of that research are shared openly on preprint servers; in this instance, bioRxiv. A preprint is a research paper that hasn't gone through peer review – as it would have to at a journal, but it does go through a screening process to ensure content is scientific, original, and will not pose a health risk. In this case, to save as many lives as possible and slow the rate of infection no one can wait for peer review to happen.
The Johns Hopkins Center for Systems Science and Engineering (CSSE) is taking advantage of several open data sources and has built a dashboard and map that tracks the daily spread of the coronavirus (2019-nCoV). They use a number of international and national sources for their information; you can see the details in the CSSE blog post about their work.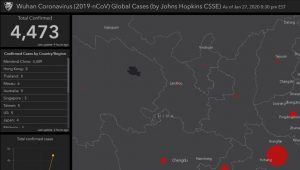 There are still lots of details to work out to make Open Science the norm in all research disciplines. The Hopkins Libraries provide the following services in support of Open Science.
• Data Services supports JHU researchers on the Homewood and East Baltimore campuses with a spectrum of resources for working with data, including open data.
• The Public Access Submission System (PASS) and JScholarship are available to all JH faculty to use to submit article manuscripts to funder repositories and our own institutional repository, JScholarship. These tools help faculty satisfy the requirements of the Johns Hopkins Open Access Policy.
• Librarians and Informationists are prepared to discuss questions you might have around preprints, open access, copyright, and other topics related to Open Science. We have two specialists, who work primarily with the changing scholarly publishing landscape. Caitlin Carter and Robin Sinn work at the East Baltimore and Homewood campuses respectively, and welcome questions from any Hopkins affiliate.
Special thanks to Paige Mann, STEM Librarian | Scholarly Communications Librarian at the University of Redlands for first sharing her Open Access & the Coronavirus blog and encouraging adaptations and sharing.