Enjoy this post by Katherine Budinger, one of our Special Collections Freshman Fellows for the 2021-2022 academic year!
"When we think of the time, money, and effort engulfed by one of these marvels of flossy-bindings, glossy paper, and mossy ideas, it is a very pertinent question: to what end?… We find the class-book justified by its obvious and commonsense first cause– to be a permanent and artistic memento of college times." (Foreward, 1914 Yearbook)
Salutations! My name is Katherine Budinger, and I am one of four 2021-2022 Freshman Fellows.  My project is to do a deep dive into a tradition that was pronounced dead after 2015 despite 126 years of publication: the Johns Hopkins Yearbook.
But first, a bit about myself: I hail from Andover, Massachusetts, a town whose claim to fame is that it burned more witches than Salem. I plan to double major in English and Writing Seminars with a minor in Theatre Arts and Studies, and you can usually find me drinking tea or wandering around a museum in search of stories and inspiration.
When I first encountered the yearbooks, I'll admit that I was expecting something dry, full of pages and pages of black and white photographs of men in suits. While there is some of that (on account of the fact that it's a rather standard requirement for a yearbook) there are so many fun elements and unexpected details that have made flipping through these snapshots of the past wonderfully entertaining.
The first yearbook was made by the class of 1889, eleven years after the establishment of Johns Hopkins. It was aptly named 'The Debutante,' likely a reference to its role as the debut yearbook as well as the tradition of having young ladies make their societal debut. It features beautiful illustrations from members of the class, and opens with a brief history of Hopkins as an institution as well as the statistics of the members of the class of 1889. None of the students that year came from my home state, but the most well-attended course from 1886 to 1889 was History and Political Science, which is not the sort of science one thinks of when it comes to Johns Hopkins. The first yearbook also featured a class poem, and what was referred to as a class prophecy. It reads almost like a short story, and refers to our institution as "The greatest University in America;" a prideful boast, but one that encapsulates the tremendous honor and love the students of the era had for their university.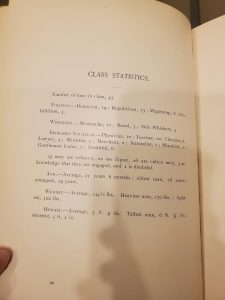 Many of the pages are dedicated towards clubs (popular ones included Banjo Club and Glee Club), sports, and fraternities. A short farcical play was inserted, as well as some additional poems and a page dedicated to quotes from students and professors that had been overheard, almost like a Gilded Age meme page. More class statistics were included, but these were perhaps more interesting than those shared in the initial pages; for example, of the 43 men in the class, 12 sported moustaches. The average height was 5 ft 9 in, and the tallest man was 6 ft ¼ in; Google tells me that this is still the average height for males, but standing at 5 ft 11 in myself I could have rivaled the tallest member of the class of 1889. Each member of the class chose a quote for themselves, my personal favorite as an English major being that a young man by the name of Horatio chose a quote from Hamlet.
I did not expect the final pages of the yearbook to be dedicated towards advertisements, and yet the more books I looked at the more I realized that this seemed to be common practice. Everything a proper Baltimore gentleman could need, from typewriters to tailors, were emblazoned in that final section, and if a recent graduate was in want of a vacation then the most recent steamship prices were conveniently on the final page.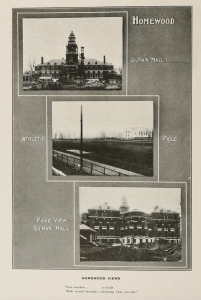 Fast forward 25 years later to 1914, the year most commonly associated with the start of World War I. It also happens to be the year that Gilman Hall, a prominent Homewood campus feature and my favorite study spot, was built. Thus, the yearbook features a fascinating photograph of the construction in progress. By this point, the yearbook has been renamed the Hullabaloo, a name that would finally stick for quite some time!
This particular book is a thick tome, mostly because it gives each member of the class an entire page with their picture, name, major, clubs and fraternity, signature, quotes, caricature, and a description likely written by the editors. Class statistics make a recurrence after this lengthy section, this time including descent, religious denomination, political beliefs, and more lighthearted subjects such as favorite song and hobby, which range from your typical pastimes to things like cussing, loafing, and "cello-ing."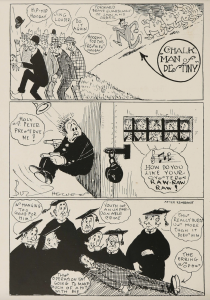 The sophomore class of that year made a fun decision to forgo a beautiful illustration in favor of placing something more lighthearted on their pages: a comic strip. It is somewhat unexpected, coming after much pomp and prestige, but I think it reflects the tone of this yearbook and how it differs from the others. The class of 1914 in general seemed to have treated this tradition as an opportunity to express their wit rather than a mere memorialization of their achievements during their time at Hopkins.
Despite the seeming lightheartedness of these yearbooks, they are from past eras where society favored the majority of the Hopkins student body: affluent white men. The 1889 yearbook contains a few comments and illustrations expressing racism towards African Americans, and jokes are made in the 1914 yearbook at the expense of Sylvia Pankhurst and the Women's Suffrage Movement. In a sense, it makes the yearbooks an even more truthful snapshot of their eras and the attitude of Hopkins and its students, since it would be ignorant to view the Johns Hopkins University of the past as a bubble of happy modernity. Instead, it is integral that we acknowledge every aspect of our institution's past, even in the yearbooks.
From the fun class statistics to the mockery of women's rights to early photos of Gilman Hall, these books tell the true historical narrative of Hopkins student life at Hopkins in the way that few things can, which is what makes them so special.