Rather than exploring a subject heading in the Lester Levy Sheet Music Collection, this week's deep dive is a celebration of Sophie Tucker, the self-billed "Last of the Red Hot Mamas." Tucker was an early vaudeville star at the turn of the century, enjoying a diverse career until her death in 1966. Born in modern day Ukraine, Tucker's family immigrated to the United States in 1887, where she entertained guests at the family restaurant in Hartford, Connecticut. After performing her way through various restaurants and cafes, she eventually made her theatre debut in 1907 at age 21.
By 1966, she had appeared on stages across the country (and world), starred in TV game shows, played cards with Al Capone, sang with Frank Sinatra, and starred in 11 films (including one with an emerging singer named Judy Garland).
Her most well-known song by the end of her long career was "Some of these Days":
In live performances, Sophie would often weave stories throughout her musical numbers. She also liked to dance with her omnipresent handerchief, and took advantage of her contralto (low) voice to stand out. This helped her secure a spot in the illustrious Ziegfeld Follies vaudeville revue– however, she was fired after the first night for stealing too much thunder from the star of the show.
Of course, Tucker's stardom landed her image on numerous sheet music covers, often with elaborate costumes and large featherered hats. Here she can be seen on the cover of "Broadway Blues":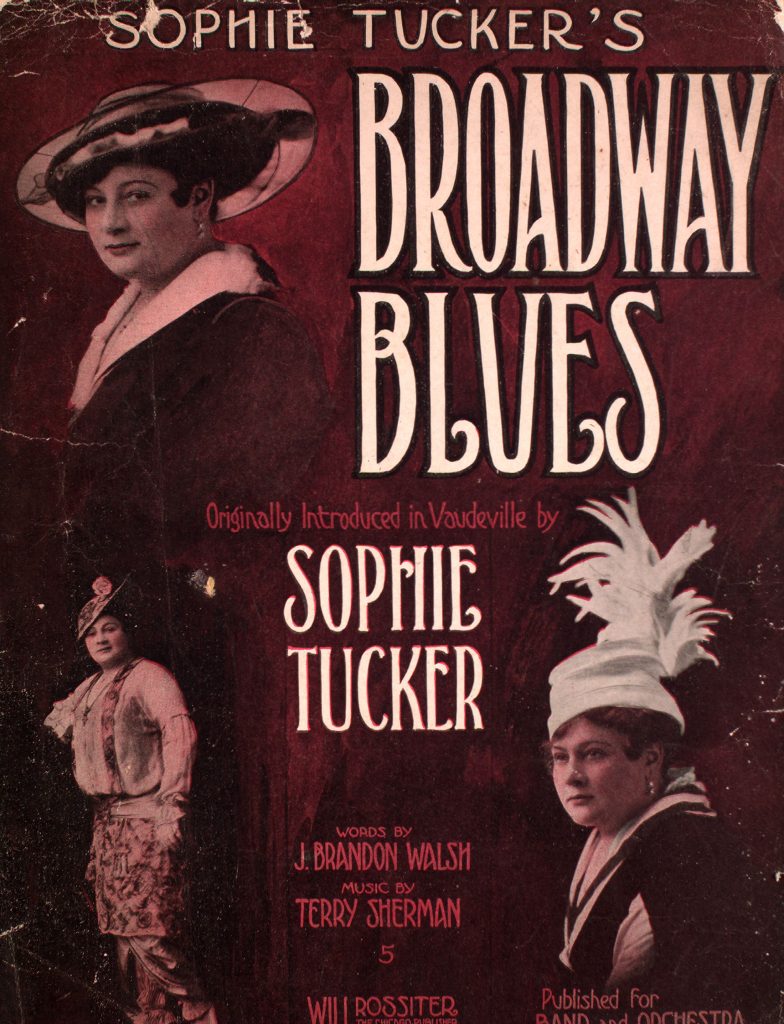 "Some of these Days," was originally released in 1910 to little acclaim. However, it became so popular that Will Rossiter Publishing Co. decided to re-release it in 1922, clearly holding nothing back in the celebrity endorsement: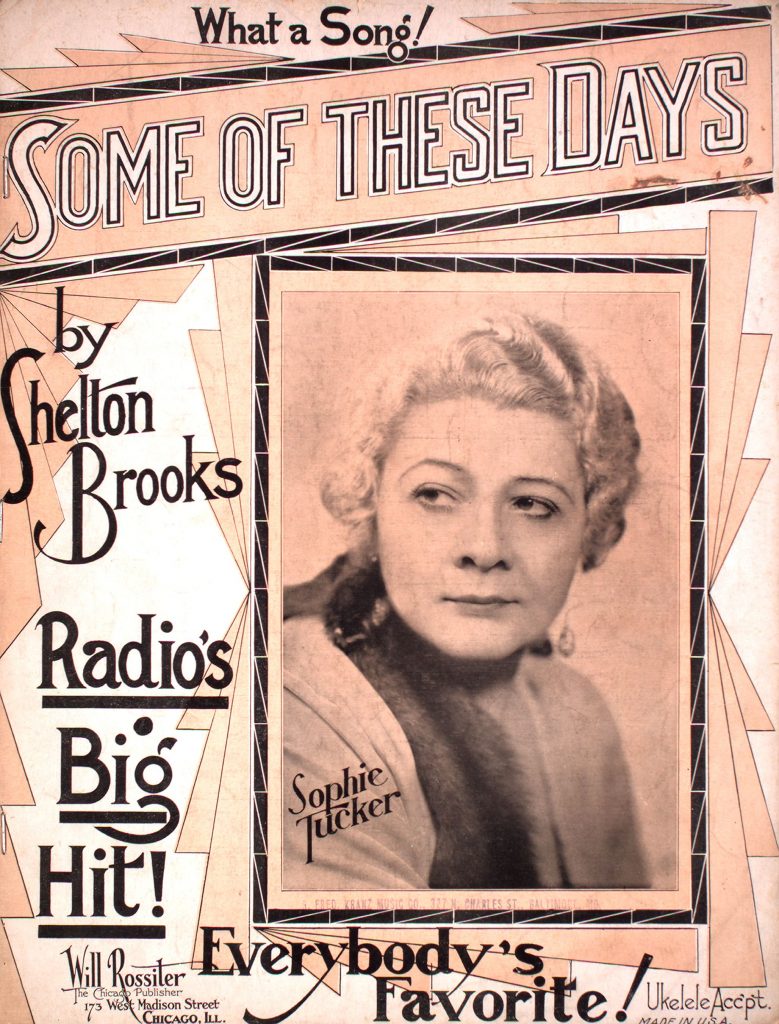 Tucker's style would influence dozens of later Broadway stars, including Bette Midler, Roseanne Barr, Ethel Merman, Carol Channing, and Mae West. A fascinating documentary has also been produced about her life, called "The Outrageous Sophie Tucker."
---
As the curator of the Lester Levy Sheet Music Collection, a phrase I hear often is "I didn't know sheet music could be used to study…"
Levy collected 30,000 songs over 50+ years not to perform, but to use as a lens for studying history. To make this easier, Levy organized his collection by subject, rather than title or composer. As a result, there are hundreds of unique subjects that can be used to filter the collection. So, I thought I'd take the opportunity to dive into some of the more fascinating, obscure, and strange subject headings in the collection. Each week, I'll focus on a different subject — stay tuned for more deep dives! You can view the entire digitized collection here.