I don't know about you, but I have spent this past year reading like Encyclopedia Brown on some sort of words-per-minute bender and getting so desperately tired of all the food I was preparing that I began to recreate monstrosities of the past, such as Nut Turkey, just to keep my stomach guessing. Clearly, drastic action must be taken.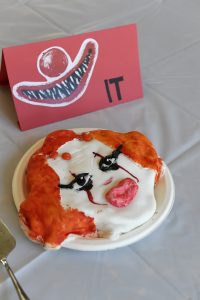 By drastic action, I do not mean following a clown into a sewer, but rather celebrating literature and desserts in all their glory by bringing back  Read It & Eat It, the Sheridan Libraries' edible book festival!  The concept of an edible book festival was originally created by two book artists back in 2000 and is meant to be a whimsical, literary way to celebrate both April Fool's Day and the birthday of Jean-Anthelme Brillat-Savarin, an incredibly snarky French gourmand of yore. It has since been celebrated at various libraries and museums throughout the world, including at Johns Hopkins University since 2014. Though a virtual edible book festival may sound odd unless you are a robot or Alexa, it actually does have some advantages, like creating an online museum of desserts! That's right! We will be creating an amazing exhibition site to show off your literary culinary creations.
But wait! There's more! The recipes and photographs will be incorporated into the official Read It & Eat It cookbook, a souvenir that everyone who enters and attends the festival will receive (we will even be printing out a few copies to add to the Department of Special Collections' collection of historic cookbooks. Fancy!). Plus, we are adding some exciting new judging categories this year, such as best content creation and best vegan entry, inspired by The Lorax cake from our 2019 festival: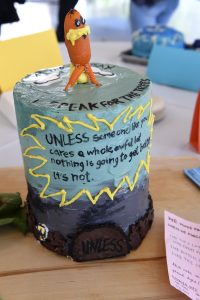 Successfully plotting an edible book design is also the perfect way to humorously vent frustrations toward a particular author or literary character,  or simply create an amazing pun: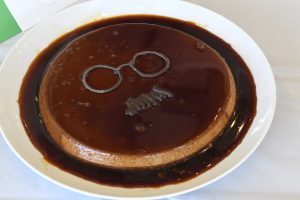 It's also a lovely opportunity to pay tribute to your favorite childhood books while getting to play with your food!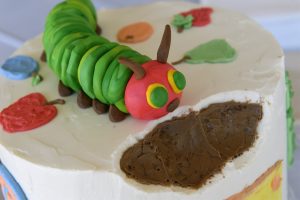 And, of course, an edible book festival is the ideal time to flex your buttercream sculpting skills. If you have access to buttercream, then how can you not pay homage to Shakespeare's tragic Ophelia?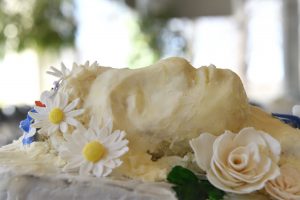 You so want to enter, right? This year's festival will be held online from 1pm-3pm on Sunday, April 11.  All content, such as recipes and photographs, must be submitted by noon on Thursday, April 1 in order to give us time to construct a monument to your edible books. Please check out our webpage for contest details, judging categories, and updates on prizes, and follow @jhuspecialcollections on Instagram for fun flashback photos from our previous festivals! Happy reading and bon appétit!