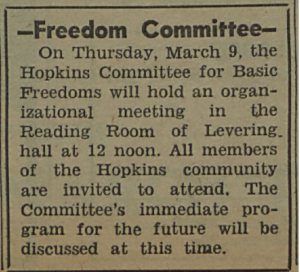 Enjoy this post by Lubna Azmi, one of our Special Collections Freshman Fellows for the 2019-2020 academic year!
I spent my entire first year researching Black Activism at JHU only to find myself immersed in a reinvigorated revolution for freedom.   
My decision to pursue research about Black history was rooted in the lack of education and discussion about it throughout my life. Racism was spoken about as an obsolete aspect of society that ended after the death of Martin Luther King.  It was not until my senior year that I learned about the course of Black activism beyond integration. Even in classroom discussions about activists and revolutionaries like the Black Panthers, I felt that I was still not learning about the root causes of these issues and the ways to solve them. When the opportunity came to take on independent research, I knew that Freshmen Fellows was a first step to rightfully get educated.   
Coronavirus cut my project short, but my final product, an oral history with former JHU student and activist (c/o '61), Donald Perry was able to bring me into his past the way that reading archival documents was not able to do. I'm thankful to the Freshmen Fellows program for providing the opportunity that has now become a gateway to necessary knowledge and solutions to old, outdated, racist, and power-hungry institutions. Now, I've not only been able to view the movement for freedom from Mr. Perry's perspective, but I am living, breathing, and consuming this knowledge everyday compared to when I had been engaging with it an hour a week.   
The creation of any great movement is a mix of the wind and the wave. The wind being the constant efforts of abolitionists, scholars, and activists in their writing, their educating, and their organizing over years and years of preparation for the wave, being the moment when all that "blowing" has come together, merging with the buildup of fury caused by injustice to form the crest of change. Their wisdom and teachings flowed above the barriers our education systems put in place to prevent appropriately addressing racial injustice and are finally crashing into us in full force. In these three short weeks, the wave has taken me and millions of others on the ride leading us to extraordinary and imaginative solutions, like police and prison abolition, that break institutions built upon white supremacy.   
There aren't efforts made by American institutions to combat racism in all of its forms or to encourage creativity to construct new and fair systems. Pessimism is a creation of the white man to keep him and his power in place. This is one of the issues that has further perpetuated a hateful and violent system and traces back to why I decided to pursue my research in this area in the first place. In the oral history I conducted with Mr. Perry, he said, "You can't really change unless institutions take a lead.  People are happy with their lazy, prejudiced thinking unless you show them otherwise." It must be the priority of our schools, universities, community spaces, and homes to implement methods and teach about how to battle and uproot racism, classism, misogyny, power, and white supremacy.   
To create equitable futures, we must learn from our history, but institutions have instead continued into the same modes of complacency, because that complacency is what serves their self-interest. If you speak to Black students and activists that attend Hopkins today, they would tell you the same things that Donald Perry spoke about in his interview. Mr. Perry was disgusted "with the lack of commitment by the university" to stand for justice. Current students would say the same. Mr. Perry was disregarded by many of his peers and faculty; current students would say the same.   
Ava Duvernay's documentary 13th, which examines how the criminal justice system disproportionately punishes people of color, ends with this quote from the founder of the Equal Justice Initiative, Bryan Stevenson:   
People say all the time, 'I don't understand how people could've tolerated slavery; how could they have made peace with that? How did people make sense of segregation? If I was living at that time, I would have never tolerated anything like that.' But the truth is, we are living at that time, and we are tolerating it.   
My choice to examine the racial injustice staring us in the face instead of contemplating on my studying of the injustice of our university's past was a deliberate one. We must listen to Donald Perry, to Martin Luther King, to Malcolm X but, we must hold the weight of ALL their words to the same value that we hold the demands of the students that were arrested at Garland, of Black communities on and off campus, of Angela Davis, of Tamika Mallory, of Tori Cooper. Our past is our present and the only way to move forward instead of in circles is to actively contribute our energies and efforts to build a future that achieves justice and freedom for ALL people.