JHU Press's 2017 book Evergreen: The Garrett Family, Collectors and Connoisseurs contains a short reference to a man named John W. M. Lee (1848-1896), who was hired in the 1880s by Evergreen's owner, T. Harrison Garrett (1849-1888), to assist with his growing collection of books and prints. Lee was Garrett's private secretary and, after Garrett's death, an employee of the Garrett's bank. In some ways, Lee was Evergreen's first curator.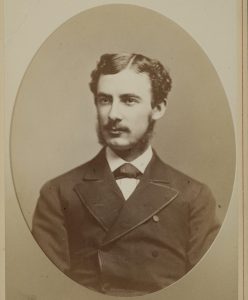 T. Harrison Garrett, c. 1875, Evergreen House Foundation Archives. I have not yet located an image of Lee.
Lee and men like him are of particular interest to me as I begin to develop a fall course for JHU undergraduates called Tigers to Teapots: Collecting, Cataloging, and Hoarding in America. One topic I plan to explore during the course is the role that "middle men" played in assisting wealthy Americas in amassing their varied collections. Running parallel to this interest is a desire to trace the professionalization of the job of curator. During the course, we will investigate how these nascent museum professionals shaped the nature of their employers' collections and their own social standing through their association with an assortment of books and decorative arts.
Lee acted as Garrett's agent for his 1885 purchase of the Claghorn collection of prints, described at the time of their sale by the New York Times as "one of the choicest and most extensive collection of engravings, etchings, and mezzo-tints in America…." Lee also was instrumental in arranging the Maryland Historical Society's 1888 purchase, with financial support from Garrett, of the Calvert Papers documenting the settlement of Maryland.
In February 1888, just months before T. Harrison's untimely death that June, Lee organized an exhibit of Garrett's prints at the Peabody Institute, which the Baltimore Sun described as "admirably arranged with a view to good taste and practicality."  The exhibit underscores Garrett's desire to be considered a formidable collector in the public eye and the fact that outside "experts" such as Lee were necessary to achieve this.
Initial research suggests that Lee's knowledge about rare books and prints gave him entree into the world of Baltimore's elite but Lee was not a social peer of the Garretts. Unlike T. Harrison Garrett, Lee did not attend university. He was enrolled at Baltimore City College High School and, while there, enlisted as a Union soldier in the Civil War. After the war, Lee was librarian of the Mercantile Bank and also librarian and curator at the Maryland Historical Society. As a young professional, he engaged in private tutoring, evidenced by the many classified ads that he took out in the Baltimore Sun during the 1870s to promote his services. Baltimore Sun research indicates that prior to his death in 1896, Lee was living at 708 N. Arlington Road, near Lafayette Square, a neighborhood developed for upper-middle-class people in the 1870s and 1880s. Following his death, Lee's wife and children moved to 1021 Harlem Avenue, still in the same general area but in a less affluent portion of it, suggesting that the family's status was dependent on Lee's employment.
Further information about Lee can be read in a biography of his life written by his daughter for a 1937 article in the Maryland Historical Magazine "John W. M. Lee" in Maryland Historical Magazine Volume 32, no1. (March 193) pp. 1-9