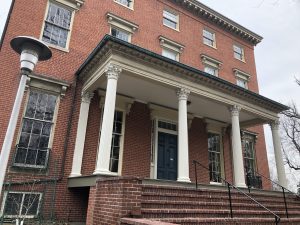 This week's Evergreen Obscurus focuses on the Noyes Alumnae House at Notre Dame University of Maryland, located just north of JHU's Evergreen Museum & Library.
When I started as the Philip Franklin Wagley Director & Curator of Evergreen last March, I found myself confused when I heard docents telling museum guests about  "Little Evergreen," or Evergreen Junior, located on the Loyola campus. I wondered, how could a Tudor building at Loyola University be "Little Evergreen" when there is an actual smaller version of the "original" Evergreen sitting right next door to the museum on the campus of Notre Dame? Surely, I thought, the real Little Evergreen belonged to NDU, not Loyola. Of course, several months later, I now understand now that Evergreen Junior was the home that Alice Garrett built in 1896 for her son, Horatio, and his bride Charlotte Doremus Pierson Garrett Bellairs, the subject of last week's blog.
But what of that brick, Italianate home sitting next door to the museum on NDU's campus? That structure is the Noyes Alumnae House. It was built in 1855, a little before Evergreen, just as that section of Charles Street was being constructed. It was one of many new mansions erected in the vicinity at the time. Its owner was James Malcolm, a wealthy lawyer, and its construction cost $16,000. Malcolm named his 22-acre estate Montrose. According to the Baltimore Sun article, the mansion featured indoor running water and gas light, along with many other modern amenities. Malcolm died in 1864 and his wife put Montrose up for sale shortly thereafter. An 1865 classified ad for the house in the Sun detailed the improvements made by the Malcolms to the property during their decade in residence. I do not know who purchased the estate, if anyone, when it went up for sale in 1865, but in 1873 the School Sisters of Notre Dame bought the house and surrounding land as an addition to their nearby women's college. Today, the house remains a vital part of NDU. Given that Montrose was likely built prior to Evergreen, perhaps its high time to start calling Evergreen "Little Montrose"! Too confusing?