[This blog post was contributed by VRC Staff Alana Barry (International Studies/East Asian Studies, '22)]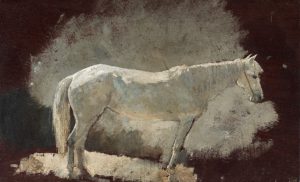 Though large parts of our lives have been put on hold, there are still exciting new developments to be found on Artstor. As part of their initiative to increase the number of open collections, Artstor recently announced a new collaboration with the Cleveland Museum of Art, which has added nearly 29,000 new images to the Digital Library. The collection includes paintings, sculptures, ancient artifacts, photography, and many more works of art from across centuries and cultures. It's a great asset to both students and professors seeking to enhance their academic study and work with high-quality images, as well as those who are interested in learning more about art.
For those of us finding ourselves inundated with digital meetings, Artstor has released a dozen high-res artistic backgrounds to be used in your everyday Zoom call. These backgrounds include classic works by a variety of artists including Monet and John Singer Sargent and are completely free to download. Check them out at www.artstor.org/zoom.
As always, the VRC is happy to assist with any questions you might have about the collection or any of Artstor's features— feel free to contact us at vrc@jhu.edu!
For more ways to find images, see the Images page on the library's Art History guide and see the Finding Images guide.